NBA: Golden State Warriors Keep Recently Committed Michigan State Prospect Under Their Radar
KEY POINTS
The Golden State Warriors are looking to boost their squad through draft picks in the succeeding seasons
One prospect that could end up with the Bay Area team is top prospect Emoni Bates
Bates is often compared to Kevin Durant with his length and scoring ability
The Golden State Warriors are seeking to bounce back in the upcoming seasons. After falling to the bottom of the standings, they're in a good position for a strong lottery pick in the draft. Amidst the talk of selecting highly recruited prospects, it's a possibility that the Bay Area team may seek 2021 prospect Emoni Bates.
It has been a unique year for the Warriors given the series of injuries and roster changes the franchise went through.
The 2019-2020 season features a completely new look for the Warriors as their veteran players were replaced with rookies and new players. The Splash Brothers weren't around and key players such as Andre Iguodala and Shaun Livingston have parted ways.
With everything that has happened to the Warriors, they still remain as a team to watch as they're looking to boost their lineup even more through several drafts. The 2021 pick they received from Minnesota could prove to be crucial for the team even after the upcoming season.
The 16-year-old Bates has verbally committed to Michigan State and is often compared to Kevin Durant. Per Blue Man Hoop, the Warriors could have the chance to select him if Adam Silver approves of allowing high school students to skip college and jump straight to the league.
This possible addition will give the Warriors a much deeper roster given the upside that Bates possesses. The six-foot-nine forward has the full package with his offensive and defensive skill set. The versatile player can move well on the floor and can easily find different ways to score. Either by smoothly driving inside the paint or pulling up from deep, Bates has the ability to take control of high-pressure situations.
To add to these traits, Bates is scouted to have a great vision on the court with how he anticipates everything that happens in the game. Having the championship presence of the Splash Brothers will further develop his game to the next level.
While plans are not certain for the Warriors' front office, it would be interesting to see how Golden State approaches the upcoming years with an abundance of young and promising prospects.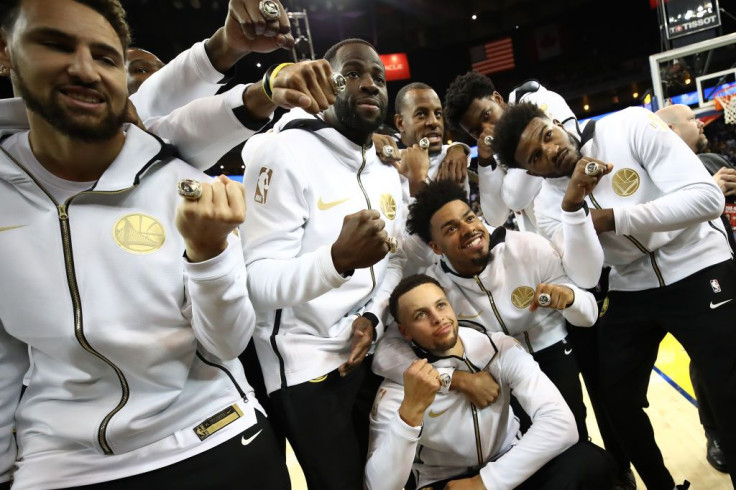 © Copyright IBTimes 2023. All rights reserved.