NBA: Isaiah Thomas Free Throw Heckling Incident For 'Frosty' Makes No Sense
KEY POINTS
Isaiah Thomas ends up as biggest loser in heckling incident in Philly
Chances of Thomas missing free throws were pretty low
Hecklers may have used free frosty to elude heftier punishment
Isaiah Thomas of the Washington Wizards continues to find ways to get his NBA career back on track. After enjoying his best years with the Boston Celtics, the 30-year-old guard was hoping to do that with the Washington Wizards. So far, he seemed to be on track before a weird incident placed him in the headlines that merited a two-game suspension.
Like anyone, Thomas reacted to insults and profanities hurled at him. The two-time All-Star was just playing ball but took exception when two fans heckled him as he was taking free throws. The 5-foot-9 guard made the mistake of entering the stands to confront the male perpetrators. In the end, all the two guys wanted was a free frosty (if two free throws were missed).
"His response was, 'I'm sorry, I just wanted a frosty'. Because if you miss two free throws the fans get a frosty," said Thomas in a report from Reuters.
The two fans were banned for a whole year for the incident. However, Thomas ended up being the biggest loser after being handed a two-game suspension (without pay) by the NBA. Thomas brought out his reaction on social media and needed just one (profane) word to describe the sanction meted to him.
The bottom line here is that Thomas, or any other NBA player, cannot confront a fan or go into the stands. There are no exceptions to this rule and the 60th pick of the 2011 NBA Draft may have forgotten all about that for a fleeting moment. All he can do now is serve out the suspension and focus once more. Thomas is eligible to return on Dec. 28 when Washington hosts the New York Knicks.
Curiously, it seems a bit odd that the two fans chose Thomas (of all people) to hopefully miss two free throws and get a frosty). I.T. holds a high 87.3-percent career clip from the charity stripe and is 81.1-percent for the 2019-20 NBA season.
Could it be possible that the two fans made it up after getting Thomas' goat? Either way, they just got banned for a year by the Philadelphia 76ers at the Wells Fargo Center. But what could stop them from doing it again next season and to another player?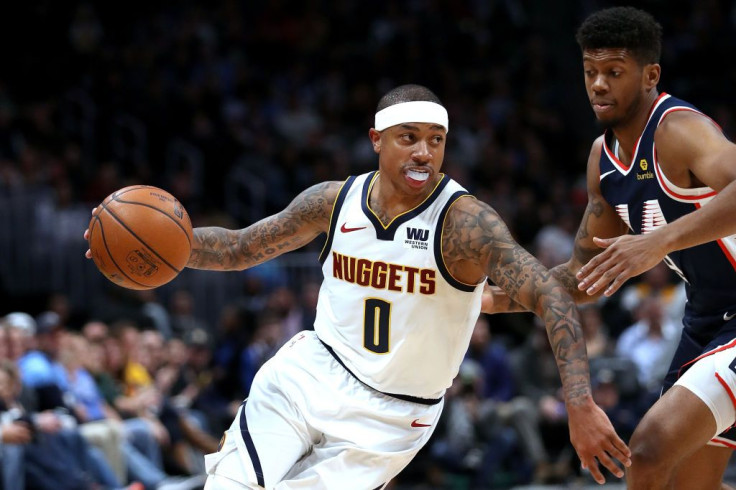 © Copyright IBTimes 2023. All rights reserved.