NBA: LA Lakers Remain Calm Despite Veteran's Injury Due To Fan-Favorite's Presence
KEY POINTS
The LA Lakers are one of the favorites to win this year's NBA championship
Veteran point guard Rajon Rondo suffered a broken thumb
Fan-favorite Alex Caruso is expected to step up in the backcourt
The modified NBA season in Orlando will prove to be a difficult adjustment for all teams given the unique current global landscape. While the Los Angeles Lakers are still one of the favorites to win this year's title, they will have to endure without veteran point guard Rajon Rondo.
The news of Rondo's broken thumb injury was a surprise to the community, as he appeared to be in top physical shape. The crafty veteran not suiting up for the games may remove some of the playmaking help that the team needs but it isn't quite a major concern. While Rondo holds the second-highest assist averages in the team next to LeBron James, the former NBA champion has also been hampered the floor general the minutes to maintain consistent minutes on the floor.
Despite this, the Lakers remain as one of the predicted finalists for this year's championship but it will all depend on how their roster can rise to the occasion and support their star players.
The addition of All-Star big man Anthony Davis has made all the difference this year. The duo of Davis and LeBron James is considered one of the more dominant combinations in the league.
For LeBron, he is cooking up another MVP caliber season with averages of 25.7 points, 7.9 rebounds and 10.6 assists per outing. This is coupled with Davis' 26.7 points and 9.4 boards a night. It's vital that these stars get the support needed if they want to make a deep playoff run.
While the league is preparing to resume the season due to the unprecedented events of the coronavirus, the Lakers are expecting their bench to step up. In particular, Alex Caruso is a key piece in making this happen.
Per Lake Show Life, the Lakers should consider boosting Caruso's minutes given how he's been a pivotal piece in the team's backcourt. Other than Caruso's energy plays and high-flying dunks, the fan-favorite also has one of the best defensive ratings in the team with 100.3. To add to these, Caruso has been consistent overall enough that he can also be trusted with point guard duties for the Lakers.
Having Caruso in a bigger role once the season returns will be crucial for the Lakers given how he's already developed chemistry playing alongside Davis and LeBron. The absence of Rondo and Bradley will be well covered by Caruso and the other members of the bench if the coaching staff provides more opportunities.
The Lakers are looking to win it all in the current season and they're hoping to develop their current team to strengthen their chances in succeeding years. It will be interesting to see where players such as Caruso end up if the Lakers continue their winning ways care of his defensive and overall energy.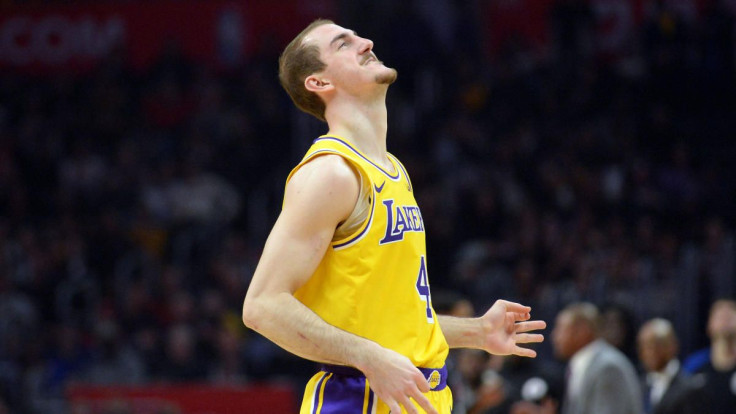 © Copyright IBTimes 2023. All rights reserved.