NBA: Michael Jordan's Excuse After Losing To Scottie Pippen During His Return Revisited
KEY POINTS
Michael Jordan and Scottie Pippen played against each other only once in their entire career
Both Jordan and Pippen scored 14 points during their only head-to-head game
Jordan had an excuse for losing to Pippen after the game
Michael Jordan had an excuse for losing to his Chicago Bulls co-star Scottie Pippen in their one and only face-off in the NBA.
After being retired for the second time, Jordan felt the itch to return to the sport he once dominated in 2001. The basketball world was thrilled to witness the greatest player of all time step inside the court once again. And one of the most anticipated scenarios in Jordan's return was the head-to-head clash with his former Bulls teammate Pippen.
Aside from the fact that Jordan and Pippen were both playing against each other, the two also weren't the go-to guys of their respective teams. On Dec. 10, 2002, the Jordan vs. Pippen match-up finally took place as the Washington Wizards hosted the Portland Trailblazers.
The game was so highly anticipated, but for some, it didn't live up to the hype. Despite not being the primary scorer for the Blazers at the time, Pippen had a nice overall game, scoring 14 points on a 6-for-7 shooting from the floor. He also grabbed seven rebounds that went along with five assists. Generally, Pippen's game was quite similar to his prime days at Chicago. Jordan on the hand, also recorded 14 points on 6-for-10 shooting. If he was not the iconic player he is until this day, the said numbers would have been just fine. The two didn't have much highlights against each other as they rarely guarded one another.
But overall, Jordan and Pippen did enjoy a playful moment when diving for a loose ball in the third quarter. Portland played well that night and in the end, the Blazers manhandled Jordan and the Wizards 98-79.
After the game, both Hall of Famers commented about each other's performance. Fully aware that the game would be special, Pippen said that he tried his best to deliver, ESPN reported.
"I feel I was a little bit more ready for this game. I knew there was a lot of attention being brought to it, and I wanted to answer," Pippen said after playing against Jordan for the first time.
Widely known as a player who hates losing, Jordan, on the other hand, had an excuse. According to the GOAT, he knows Pippen's game, but unfortunately, he was just not as prepared as he wanted to be.
"I know Pip, and I know he wanted to come out and play well. Believe me, I wanted to come out and play well, too. His horses were ready, and my mules were sick. I have to take some razzing for the time being," Jordan said.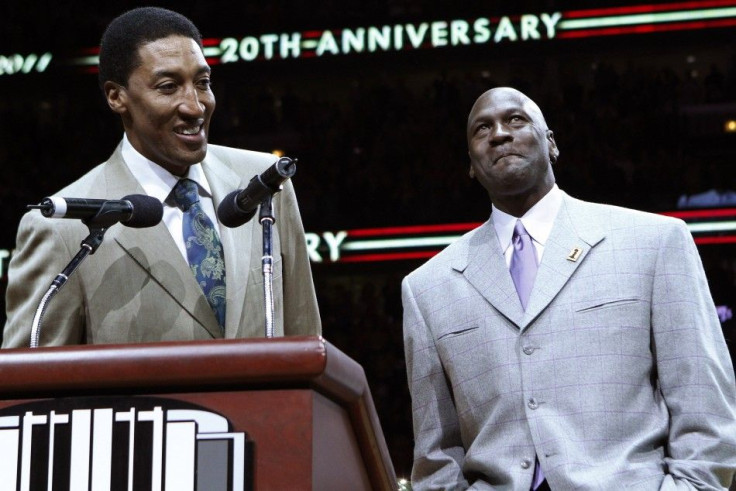 © Copyright IBTimes 2023. All rights reserved.