NBA MVP 2016: Will Warriors' Stephen Curry Be The First Ever Unanimous Selection?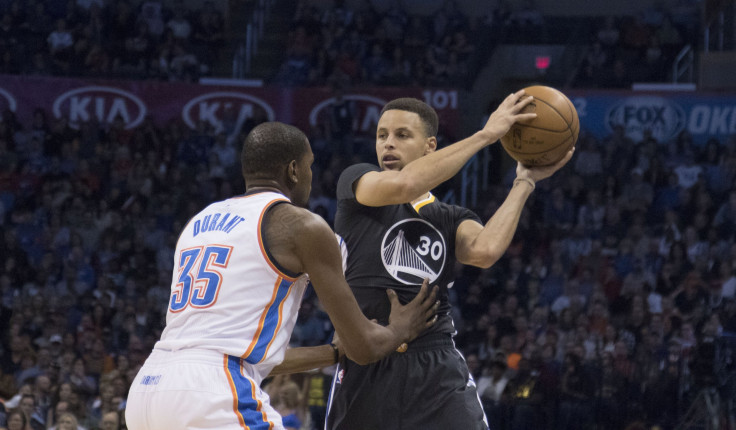 Stephen Curry is a lock to be named the 2015-2016 NBA MVP, but there is plenty of intrigue in the race for the award with more than a quarter of the regular season remaining. The Golden State Warriors point guard has a real chance to become the only unanimous MVP choice in league history.
Even if Curry were to sit out the rest of the season, he would still win the award. Last year's MVP winner is the obvious choice, leading the league with 30.7 points per game, while adding 6.6 assists and 5.3 rebounds per contest. His shooting splits (.515/.468/.908) are nothing like the NBA has ever seen before, and he's already set the record for most three-pointers in a season. All of that, combined with the fact that he's the best player on a team that could set the record for most wins in a season, makes him the only choice for MVP.
But just because Curry is the obvious choice for the award, that doesn't mean he'll get every first-place vote.
LeBron James had an all-time great MVP season in 2012-2013, averaging 26.8 points, 8.0 rebounds and 7.3 assists per game while shooting 56.5 percent from the field. But one writer decided Carmelo Anthony was more deserving. In 1999-2000, Allen Iverson received one first-place vote, preventing Shaquille O'Neal from accomplishing the feat. The Los Angeles Lakers center had his most dominant season with 29.7 points, 13.6 rebounds and 3.0 blocks per game.
The Boston Globe's Gary Washburn decided Anthony was more valuable to the New York Knicks than James was to the Miami Heat, who also had Chris Bosh and Dwyane Wade. CNN/SI's Fred Hickman argued that the Lakers would have been great without O'Neal, but the Philadelphia 76ers would have been one of the league's worst teams without Iverson. Because Curry plays on a great team, he could be penalized and fail to get all 121 first-place votes.
Warriors Opponent Stats With Stephen Curry On/Off Court in 2015-16 | PointAfter
Who might be this year's Anthony or Iverson? A few players have a chance to prevent Curry from setting yet another NBA record.
The NBA's second-best point guard is having an historic season of his own, and he has a chance to sway at least one writer's opinion. Through 61 games, Westbrook is filling the stat sheet like no other player, averaging 24.3 points, 10.3 assists and 7.5 rebounds per game. Only Oscar Robertson has averaged at least 24/10/7 in a season, and Westbrook is doing so for a team that could win close to 60 games.
Westbrook's biggest obstacle might be the fact that he plays with Kevin Durant. After missing most of last season with a foot injury, Durant is as good as ever, averaging 27.9 points and 8.2 rebounds per game on better than 50 percent shooting. It's hard to decide which player has been more valuable to the Oklahoma City Thunder, which could make it difficult for any voter to choose one over the other.
LeBron James is no longer the best player in the league, but he can't be ruled out as a possibility to get a first-place vote. He's averaging his fewest points since he was a rookie, but the four-time MVP is still putting up 24.9 points, 7.2 rebounds and 6.6 assists per game on 50.5 percent shooting. The Cleveland Cavaliers have been the No.1 seed in the Eastern Conference for almost the entire year, and they have an even better record than the Thunder.
Cleveland certainly has talent other than James, but the Cavs would be in trouble if it wasn't for their top star. A broken knee cap forced Kyrie Irving to miss all of November and most of December, and Cleveland still managed to go 18-7 when James played without his starting point guard. Kevin Love is averaging a double-double, but he's not performing like the elite player he was a few years ago.
If someone does get a first-place vote because a writer believes he's more valuable to his team than Curry, Kawhi Leonard might be the most likely player to prevent the Warriors' star from being a unanimous selection. Leonard is the best player on the San Antonio Spurs, who are having an unbelievable season of their own.
Despite how good Golden State has been, San Antonio only trails them by 3.5 games in the Western Conference standings, and the two teams will play two more times this season. The Spurs are on pace to win 70 games, and they have two All-Stars to the Warriors' three.
Spurs Opponent Stats With Kawhi Leonard On/Off Court in 2015-16 | PointAfter
On paper, Curry has a lot more help than Leonard, who has led his team to nearly the same record as Golden State. Curry is aided by Klay Thompson, who scores 21.9 points per game, and Draymond Green, who leads the NBA in triple-doubles. LaMarcus Aldridge is San Antonio's second-best player with 17.0 points and 8.4 rebounds per game, and while most teams would be lucky to have Tony Parker as their No.3 option, he's no longer a top-five point guard, failing to play at an All-Star level. Tim Duncan remains an important part of the Spurs, but he plays just 25.2 minutes per game.
Leonard has impressive offensive numbers (20.6 ppg, 6.7 rpg, 2.5 apg), and his three-point percentage is even better than Curry's. Most importantly, he's the NBA's best defensive player, and the ability to shut down the opposition's top scorer on a nightly basis is what makes Leonard most valuable.
Curry's statistics are so good that it will be difficult for anyone to justify giving a first-place vote to another player, but history shows that there will be at least one outlier.
© Copyright IBTimes 2023. All rights reserved.