NBA MVP: Stephen Curry Picks James Harden Over LeBron James As Favorite
James Harden is the "leader in the clubhouse" when it comes to winning this year's NBA most valuable player (MVP) award, according to Golden State Warriors guard Stephen Curry.
Harden is among the leading candidates to win the award this year as his average of 30.6 points, 8.8 assists and 5.4 rebounds per game has helped the Houston Rockets clinch top place in the Western Conference with a current 62-15 regular season record with five games remaining.
The likes of Oklahoma City Thunder guard Russell Westbrook, who won MVP last year, and New Orleans Pelicans forward Anthony Davis are also contenders for the award, however, Harden's biggest competition this year appears likely to be LeBron James.
The three-time NBA champion has carried an injury-depleted Cleveland Cavaliers (47-30) side this season as they sit in third in the Eastern Conference with James averaging 27.4 points, 9.1 assists and 8.7 rebounds per game — nearly exceeding his average (except in points) from 2008-09 to 2012-13 where he won the MVP award four times.
Not only is James performing at this level at the age of 33, but he is also continually breaking records this season, with his most recent accomplishments being making 17 assists in a game without a single turnover, becoming just the third player in NBA history to record 10-plus seasons of 2,000 points and most recently, passing Michael Jordan's record of 866 straight games with 10 points.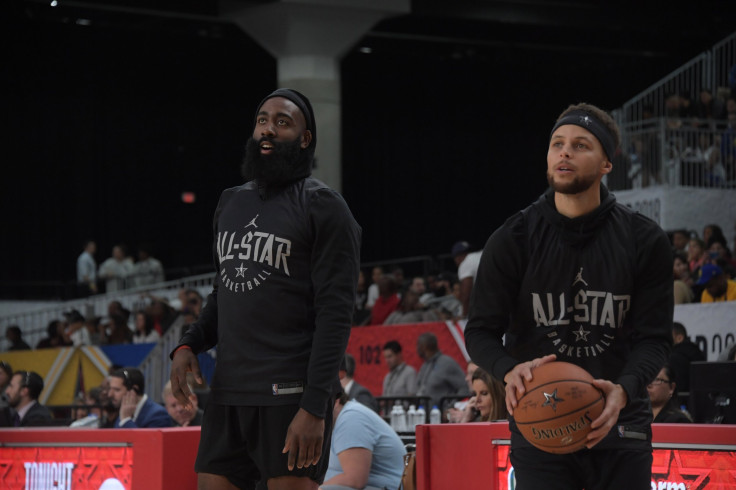 But Curry, who won the MVP award unanimously in 2015/2016, still believes Harden is the favorite when it comes to the vote.
"Every year there's storylines that you can kinda gravitate towards in the MVP race and what not," Curry told CBS Sports' Bill Reiter on Monday, as quoted on CBS Sports. "And obviously this year you got James [Harden] who's been leading the charge all year, you got that Houston team playing at a high level, and he's taken his game to another level, so it's been fun I guess to watch the teams play against him. I think he's the leader in the clubhouse when it comes to the vote."
"But you got Anthony Davis, LeBron's been playing amazing, if injuries could be taken off there's guys on our team that are playing well too. It's one of those things. The NBA's in such a great place with talent all across the league, and guys playing at historic levels. So can't make a wrong choice, but I obviously feel James [Harden] is the leader in the clubhouse on that front," he said.
James, meanwhile, recently stated that if he could vote, he would pick himself to win the award.
"I would vote for me," James said. "The body of work, how I'm doing it, what's been happening with our team all year long, how we've got so many injuries and things of that nature, guys in and out, to be able to still keep this thing afloat, I definitely would vote me."
© Copyright IBTimes 2023. All rights reserved.