NBA News: 5'6" Kid 'Who Guarded Zion Williamson' Grew Up To Be Top College Prospect
KEY POINTS
Bryson Bishop was once a 5-foot-6 eighth-grader who bravely guarded Zion Williamson in a game
Bishop is now committed to a university to play college basketball
Williamson got nothing but respect for his former rival
The skinny and short eighth-grader who once guarded Zion Williamson is carving his own path in the game.
Before becoming Duke's star and an NBA All-Star, Williamson was first a big name in American high school basketball. However, then-Oakbrook Prep point guard Bryson Bishop wasn't intimidated by Williamson at all.
Some might have not heard of him, but Bishop was the "5-foot-6" player who bravely defended Williamson during a high school game despite the massive difference in size back in 2017.
Bishop and Williamson's match-up went viral on YouTube and now has more than 6.5 million views. The former even gained more popularity when ESPN's SportsCenter recently recounted his story on national television.
The viral video doesn't sum up Bishop's career. In fact, the youngster grew several inches and is now standing 6-feet tall. His remarkable outside game saw him becoming a star in the Spartanburg Christian team.
At present, Bishop is ready to take on bigger challenges in his career as he has already "committed" to Charleston Southern.
"It's been going crazy," Bishop told The Post and Courier Friday, recalling his match-up against Williamson. "I remember that night, I was lying in bed and my phone started vibrating and vibrating. That's when the video first got out, and it's been crazy ever since."
"Since the video came out, that's what I was known for, 'the kid who guarded Zion'," he added. "That video gave me a platform, but I wanted to be known for more than that. I wanted to let people recognize that I can play, that I'm a good player. Most people don't get a platform like that, and I wanted to do something special with it."
Williamson, on the other hand, was also asked to comment about Bishop in a recent talk with J.J. Reddick's "Old Man and The Three" podcast.
According to the New Orleans Pelicans forward, from the moment Bishop stepped up against him, the kid earned his "respect."
"I'll never forget that," Williamson said of Bishop. "That was our rival. It's like a late third, maybe fourth quarter. We're up 30 at this point. We're out of a time out, and he starts walking over to me. I'm like, ' No way. You're not about to do this. ' When he comes over and starts clapping, I kid you not. If you saw me, I look to the right of our principal and our track and field coach. I looked at those two, and I was like ' Are they serious?' "
"What people don't know, I've got a lot of respect for him [Bishop] for doing that," he added. "His teammates were so out of it; he was just trying to give them energy. For him to be the one to come out and do that, I've got nothing but respect."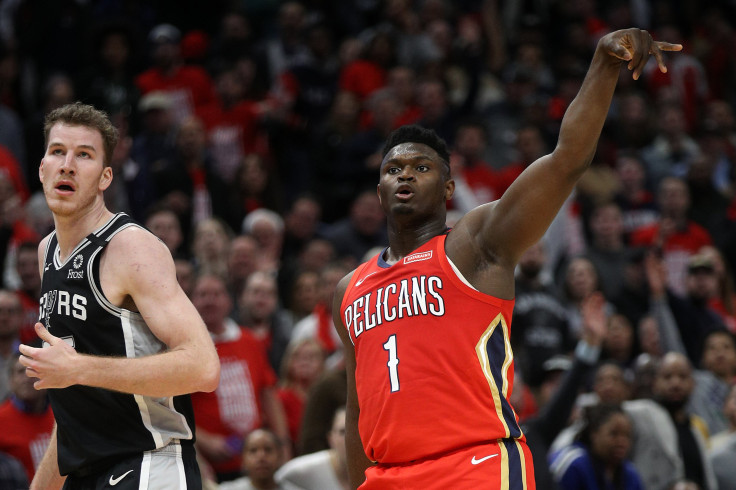 © Copyright IBTimes 2023. All rights reserved.