NBA News: Ex-MVP's Success With Lakers Hinge On How LeBron Directs Star-Laden Squad
KEY POINTS
Westbrook made sure he would return home to Los Angeles when he heard of the Lakers' interest
The Lakers' success for the coming NBA season will depend on LeBron James
Westbrook's ability to blend in with other Lakers players remains to be seen
Russell Westbrook is one of the newest players to watch on the Los Angeles Lakers roster for the coming NBA season.
However, it appears the former NBA Most Valuable Player made sure he would finally head home.
The native of Southern California would have been in Los Angeles earlier had a previous deal been sealed.
This is about a potential stint with the Los Angeles Clippers, the same time when Kawhi Leonard arrived.
When Westbrook caught word that the Lakers were interested in him, he did not let the chance pass. He immediately talked to Washington Wizards' owner Ted Leonsis, who agreed to his wishes.
The deal was in place after a few hours, and the rest is history.
The Wizards acquired Kyle Kuzma, Montrezl Harrell, Kentavious Caldwell-Pope, and the No. 22 selection in the NBA Draft in exchange for the nine-time All-Star, The Athletic reported.
Ironically, Westbrook was the third player the Lakers consider among candidates. It was DeMar DeRozan who was first in line, and talks had already been made with the San Antonio Spurs, according to another report from The Athletic.
Unfortunately, the Lakers and Spurs failed to agree to a compensation package for a sign-and-trade deal.
Los Angeles turned its attention to Buddy Hield but ended up getting Westbrook instead.
But the next big question is how long will Westbrook stay in LA. He will earn $44 million this coming season.
He is due another $47 million for the 2022-23 season although that depends if the 2017 NBA MVP exercises his player option.
In the eyes of NBA book author Roland Lazenby, his tenure will be interesting. One thing he pointed out is how someone as talented as Westbrook can fit in with the Lakers.
Lazenby gave his take when he appeared on the Sports Bytes PH podcast hosted by Filipino journalist Brian Yalung last September 24.
"It's so hard to have someone more talented. It really requires a lot for a supremely talented player to get in the right context. To have the right coach, the right coaches, the right teammates, the right organization. Russell is that guy who's never really been matched up well. Or if it was a good match, people didn't recognize it. So it will be interesting to see if that happens," Lazenby stated.
"There's going to have to be an awful lot in place for the Lakers to succeed. But they could. It's going to take a lot to figure how they are going to play. But LeBron James has done it in various places. So if there is anybody who is going to preside over that, he's the guy," he added.
As far as seeing Westbrook sticking around, Lazenby believes he the all-time scorer is at home.
"Well, that's his home. He went to college there. It has the potential to melt because he is cynical. There is no question that he (Westbrook) is a cynical dude. He is on a different level. Westbrook–he is a freak. He's the real freak," the 69-year-old said.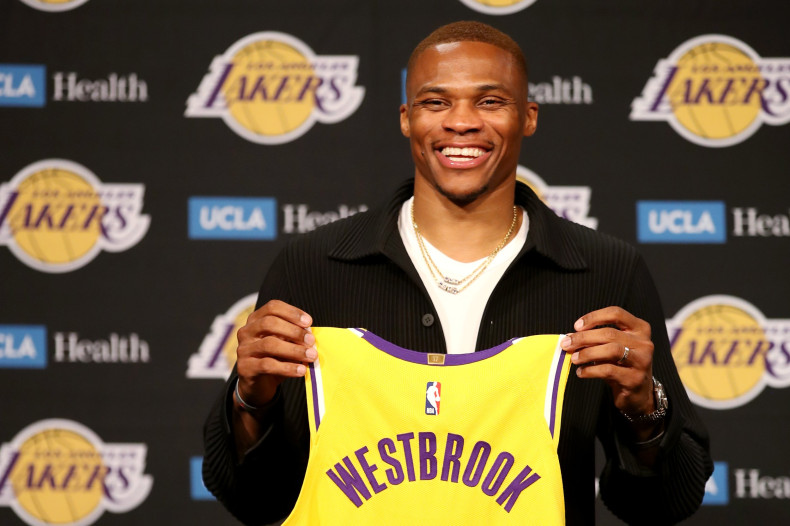 © Copyright IBTimes 2022. All rights reserved.