NBA News: Kings Interim Coach Blasts Team's Performance Against Grizzlies
KEY POINTS
Kings interim head coach Alvin Gentry said this was "the most disappointed" he's been in 34 years in the NBA
Sacramento was outscored 78-52 in the second half by the Memphis Grizzlies and lost 127-102 Sunday night
Sophomore guards Desmond Bane and Tyrese Haliburton both led their teams in scoring
Sacramento Kings interim head coach Alvin Gentry could not hold back his displeasure over his team's performance after the Kings recorded their third straight loss Sunday night against the Memphis Grizzlies.
Speaking to the media in the post-game presser, Gentry ripped into his team after the 25-point blowout defeat.
"It's the most disappointed I've been in 34 years in the NBA, I can honestly say that," Gentry was quoted as saying by ESPN following the 127-102 loss.
He continued, "That performance was absolutely ridiculous. We didn't play hard, we didn't compete. We didn't guard the ball, we didn't guard screen and rolls. We didn't follow the game plan. No competitiveness whatsoever. They basically toyed with us. I'm totally disappointed and everybody in this building should be disappointed."
The Kings were able to stay in step with the highly potent Grizzlies offense, even carrying a one-point lead going into halftime.
However, the Grizzlies regained their footing and stepped on the gas quickly in the third. They outscored the Kings 40-27 before putting the game away in the fourth quarter after scoring 38-25 in the final frame.
Sophomore guard Desmond Bane torched the Kings to the tune of 28 points while shooting 11-of-19 from the field and 4-of-6 from three.
Grizzlies point guard Ja Morant and backup forward John Konchar combined for 29 points to supplement Bane's stellar performance.
Bane is solidifying his run for the league's Most Improved Player award this season, with averages of 16.7 points, 4.3 rebounds, 2.2 assists and one steal per game across 34 appearances.
As for the Kings, Tyrese Haliburton was once again their best player after putting up 18 points and seven assists in 32 minutes of action, ending his run of four consecutive games with at least 20 points and 10 assists.
De'Aaron Fox, in his first game back after returning from the NBA's health and safety protocols, scored 12 points while putting up seven horrid turnovers in 30 minutes.
The loss put the Kings' home record at 7-10.
"I feel like teams come in here licking their chops for sure. It's up to us to protect our home court. We have to fix the little things. No excuses whatsoever. Once we get on the same page, all aboard, this team is very talented. It'll come along," Kings backup forward Terence Davis said.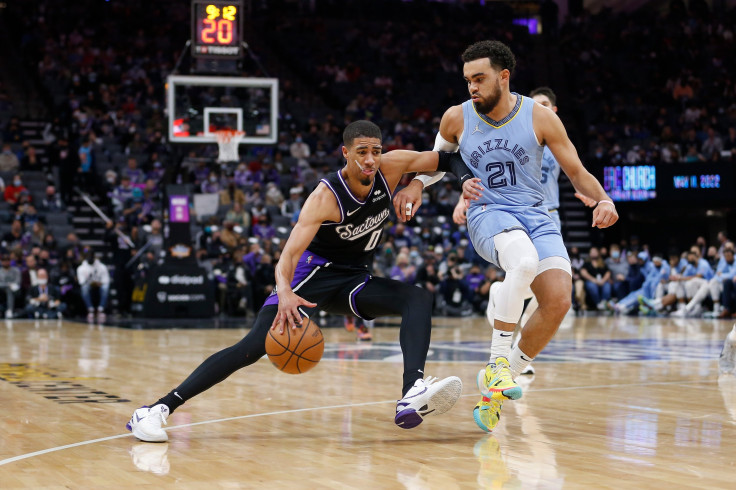 © Copyright IBTimes 2023. All rights reserved.