NBA News: LaMelo Ball Declares For 2020 NBA Draft, Categorized As 'Professional'
KEY POINTS
LaMelo Ball declares for the 2020 NBA Draft
The Ball Brothers just signed with Jay-Z's Roc Nation Sports
LaMelo Ball is a projected top pick in the upcoming rookie draft
Top lottery pick prospect LaMelo Ball has declared for the 2020 NBA Draft. Having played in Australia's NBL in 2019, Ball is said to be categorized as a "professional" in the list of the early-entry candidates for the annual rookie event.
Shams Charania of the Stadium and Athletic broke the news on Tuesday and posted, "Potential top pick LaMelo Ball has declared for the 2020 NBA Draft. Ball was under the "professional" category of early-entry candidates distributed to teams Tuesday night. Virtual pre-draft process can now begin with teams."
The announcement came following the Ball brothers' reported signing with Jay-Z's Roc Nation Sports. LaMelo is the youngest sibling of New Orleans Pelicans starting guard Lonzo and G-League's Oklahoma City Blue forward LiAngelo.
"(Signing with Roc Nation Sports) is something that they are building from the ground up together. They are brothers and they love each other and that's how they roll. It's all love. They don't separate from each other," LaMelo's manager Jermaine Jackson said.
The 18-year-old prodigy has elevated his draft stock after his impressive showing overseas. Arguably the most gifted prospect in the upcoming class, Ball has turned heads on the Australian league while playing for the Illawarra Hawks, averaging 17.0 points, 7.6 rebounds, and 6.8 assists, which earned him the league's Rookie of the Year award.
"Ball's passing and playmaking is an extraordinary skill that registers a cut above where his older brother was at out of college," SB Nation's Ricky O'Donnell wrote. "Ball doesn't pass to open guys — he passes guys open. He sees angles that no one else would see, and has the audacity and the self-belief to think every dime will lead to an easy bucket."
But while some holes in his game remain evident, analysts believe his natural basketball talent is enough to neutralize the faults, making him a flat out gem in the pool of NBA hopefuls.
"His style isn't for everyone, but as a scoring playmaker, he is suited for the point guard spot in today's NBA," a previous projection from Bleacher Report's Jonathan Wasserman read. "I'm expecting his physical tools and skill versatility to ultimately outshine the bad shots, turnovers, and lack of strength."
Before turning pro, Ball played high school ball in his home town in Chino Hills, California, and at SPIRE Institute in Geneva, Ohio following his stint at the Junior Basketball Association – a league founded by his father, Lavar - in 2018 where he was also named the MVP.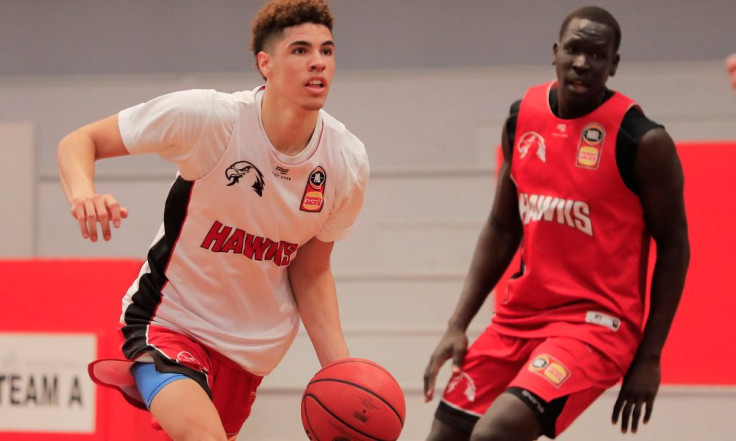 © Copyright IBTimes 2023. All rights reserved.