NBA News: Nets GM Offers Disappointing Update About Ben Simmons
KEY POINTS
Nets GM Sean Marks reveals that Ben Simmons has a back injury that required rehab
Marks also says that no timetable is set for when Simmons will take the court again
James Harden has been flourishing in Philadelphia, while the Nets continue to struggle
The season debut of Ben Simmons has long been awaited by fans, but Brooklyn Nets general manager Sean Marks hinted that the public will need to wait it out a while longer.
Speaking to the YES Network, Marks revealed that Simmons' back stiffness has kept him from fully participating during the Nets' practices and has been rehabbing his back for about two weeks.
"Unfortunately, his back stiffness has delayed his ability to get on the court with his teammates. Hopefully, by the end of the next week, he's getting more into the team environment, and then we can really ramp up and start him getting into game shape," said Marks.
The Nets acquired Simmons in a blockbuster deal at this season's edition of the NBA trade deadline, sending All-Star guard James Harden and veteran big man Paul Millsap to the Philadelphia 76ers in exchange for the Australian, deadeye three-point shooter Seth Curry, center Andre Drummond, and two first-round picks.
Since the trade came into fruition, it has been widely regarded that the Sixers won the trade as Harden's impact on the court as a facilitator has led to a four-game winning streak, while Simmons remains on the sidelines for the Nets.
Ideally, the Nets trotting out a lineup of Simmons, Kyrie Irving and Kevin Durant every game has potential to be one of the best three-man combinations in the NBA.
However, it remains to be seen how the Nets will deploy that lineup and who gets to have main duties over handling the ball and making plays for others.
Simmons will obviously be tasked with being the Nets' playmaker on days, while Irving is out due to COVID-19 restrictions.
But seeing him co-exist with someone like Irving is something that fans are eager to watch unfold.
"There's no real timetable. We've got to see it and take it day by day and see how he responds. Hopefully, the sooner the better [because] we need to get this group together and get minutes on the court," Marks added.
The Nets have been in a slump since the calendar turned to 2022, amassing a win-loss record of 5-16 and have just lost three straight games after falling to the Miami Heat.
Something has to give in Brooklyn and their fans could only hope that Simmons unleashes a next level to his game once he is available to play.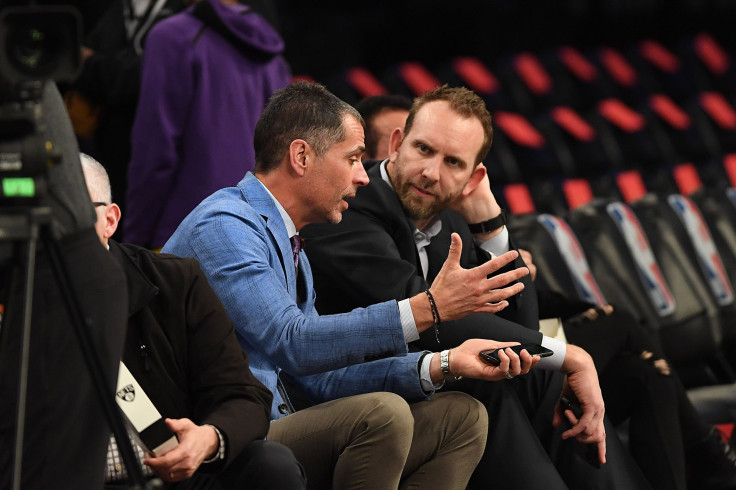 © Copyright IBTimes 2023. All rights reserved.