NBA News: Nets Head Coach Confirms James Harden Will Not Be Traded
KEY POINTS
Steve Nash is adamant that James Harden will not be dealt at the trade deadline
Harden being traded to the 76ers in exchange for Ben Simmons was reported last week
The Sixers have pulled Tyrese Maxey from any trade deals involving Harden
The biggest headline going into the February 10 NBA trade deadline is that Brooklyn Nets star James Harden allegedly looking to find a new home, but head coach Steve Nash is having none of the rumors.
Nash made it clear with the media that Harden will not be dealt at the trade deadline as the Nets make a push towards competing for a better playoff spot in the following days.
"I've talked to James [Harden]; he wants to be here, and he wants to be here long term as well. So I don't think anything's changed other than noise from the outside," Nash said of the Harden situation.
NBA fans had been speculating in the past few days that their major core of Harden, Kyrie Irving and Kevin Durant will be broken up in favor of having Philadelphia 76ers outcast Ben Simmons on the roster.
Rumors of a Harden departure have been swirling since the start of the season because of the 32-year-old deciding to decline a three-year, $161 million extension.
Financially, this makes sense for Harden since he can opt to sign a four-year, $227 million extension in the upcoming offseason, but it also allows him the freedom to shop around and find a team that would be willing to take him in.
Harden has been on thin ice this season as his level of play has certainly declined from last season, partially owing to the hamstring injury that he has been dealing with since the 2021 playoffs.
Across 44 games this season, Harden has been shooting the ball at 41.4%–his lowest field goal percentage since his rookie year.
It can be inferred that his frustration with the Nets is that he has to be the No. 1 option as both Durant and Irving are unavailable (Durant due to a sprained MCL and Irving opting not to be vaccinated against COVID-19).
Trading him to the Sixers will give Harden the opportunity to play alongside five-time All-Star Joel Embiid and Tobias Harris as a second or third option, depending on who they face.
With Harden and Simmons as the centerpieces of the trade, Philadelphia must include another player to help the salaries match.
Using the ESPN Trade Machine, the Sixers could throw in Danny Green or Seth Curry into the mix as they are reportedly not considering any trades that will include Tyrese Maxey.
This trade will be an ideal one for both Harden and Simmons as the latter will be the ideal playmaker to plug in alongside Durant and Irving, especially if he still has an aversion towards shooting the ball, while Harden does not need to carry the entire Sixers offense for long stretches of time.
Regardless of Nash's statements, the dynamic nature of the NBA trade deadline has proven that anything can happen and fans should still keep a Harden-Simmons trade in the back of their minds ahead of February 10.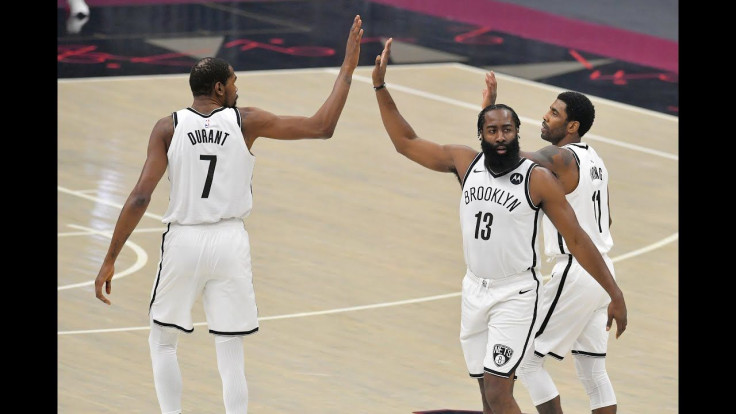 © Copyright IBTimes 2023. All rights reserved.