NBA News: Toronto Gets Some Consolation After Hall Of Fame Honored Raptors Superfan
KEY POINTS
A diehard Toronto Raptors follower since 1995 becomes the first fan to be honored at the Naismith Basketball Hall of Fame
Nav Bhatia adds a special token that other superfans may not easily get
Raptors prexy's future remains uncertain
The Toronto Raptors are struggling since winning their first NBA title in 2019, but they got some consolation recently.
Most are aware of the Naismith Basketball Hall of Fame last weekend, and the ceremony was not purely about the players who dazzled fans through the years.
As most know, fans are a big part of a basketball organization's success. One of the first ones to get honored is Nav Bhatia.
Bhatia's name may not ring a bell, but the 69-year-old has probably accomplished something that no other NBA fan has done.
He sat at the courtside of every Raptors home game as well as some road games since the franchise addition in 1995.
All that may have been cut during the pandemic, but the Canadian businessman has undoubtedly proven he is a superfan of the Raptors.
Now he is being recognized for it, making him the first fan to enter the Naismith Basketball Hall of Fame.
"In the greatest building basketball has, the name superfan Nav Bhatia will be immortalized," Bhatia posted on Twitter. "There is now a turban and the first fan honored within Naismith Basketball Hall Of Fame. I am overcome with emotions today."
From the photo of his tweet alone, there is no denying that Bhati has had a lot of evidence that he is a loyal supporter of the Raptors through good and bad times.
Now he gets something that no other NBA fan can brag about, a shiny Basketball Hall of Fame ring that takes him to another level.
That loyalty to the Raptors is expected to continue with Toronto falling short of making a good run this season.
A lot of questions are in the air for the 2018-19 NBA champions, including the future of president of basketball operations Masai Ujiri whose contract will expire after the current season.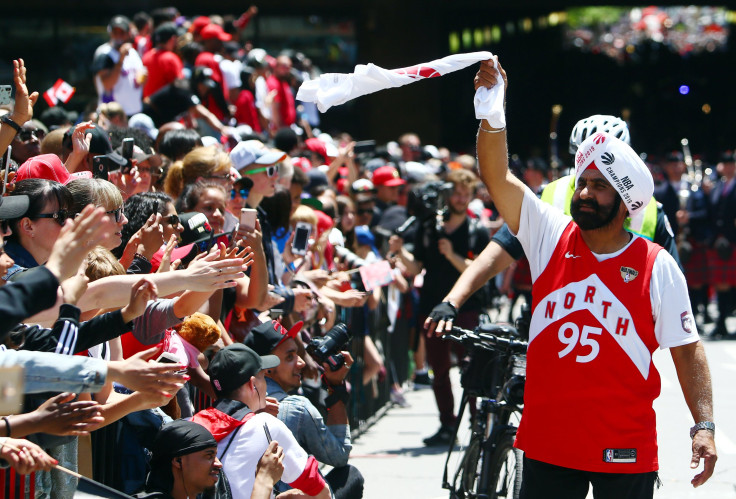 Little is known on what the Raptors plan to do with Ujiri although most speculate that all of it will be sorted out.
An unnamed source feels that Toronto is likely to re-sign the 50-year-old executive, but there are signs he has been delegating some of his work to general manager Bobby Webster.
Ujiri has been linked to other teams, but nothing has gone beyond rumors.
A clearer picture to that should be known soon although seeing the Nigerian-Canadian executive continue managing the Raptors would hardly come as a surprise.
© Copyright IBTimes 2023. All rights reserved.