NBA Playoffs 2020: Philadelphia 76ers Could Turn Season Around With Joel Embiid, Ben Simmons Healthy
The Philadelphia 76ers were arguably the NBA's most disappointing team when the season was suspended on March 11. Following a 142-day break, Philadelphia has a chance to turn things around.
The 76ers are one of 22 teams scheduled to play eight more regular-season games in Orlando, Florida at Disney's ESPN Wide World of Sports Complex. Games will start on July 31 and the playoffs are expected to begin in August.
Joel Embiid and Ben Simmons could be the most dangerous pair of teammates in the East playoffs. That might not have been the case if the postseason started in April as planned.
When Rudy Gobert's positive COVID-19 test halted the season indefinitely, Simmons hadn't played in 18 days. The All-Star was dealing with a back injury, which had the potential to cost him the rest of the season.
By the time the league returns, Simmons will have had four and a half months to recover from the injury.
Embiid played the night the season was suspended. It was his first game back from a shoulder sprain that cost him two weeks of playing time.
Multiple injuries cost Embiid games in the early part of the year. He was forced to undergo surgery on his finger and miss nine games in January.
The lengthy break could give Embiid a much better chance of being 100% healthy come playoff time.
The 76ers and Milwaukee Bucks were considered the class of the East when the season began, expected to meet in a highly anticipated conference finals series. Milwaukee held up its end of the bargain, going 53-12 for the best record in the NBA. Philadelphia never found its footing, going 39-26 as the No.6 seed.
Embiid and Simmons were hurt and lacking chemistry in March. They should be healthy when the season resumes.
In the NBA's "bubble" at Disney, every team will be in the same position, looking to regain any momentum it might have lost during the extended break.
Simmons is averaging 16.7 points, 7.8 rebounds and 8.2 assists per game. His 2.1 steals per game lead the league, making him a potential First-Team All-Defense selection.
In 44 games, Embiid is averaging 23.4 points, 11.8 rebounds, 3.1 assists and 1.3 blocks per game. Embiid might be the NBA's best defensive player when healthy.
The 76ers rank sixth in defensive efficiency and 18ths in offensive efficiency. Philadelphia is third in offensive rating over its last 15 games.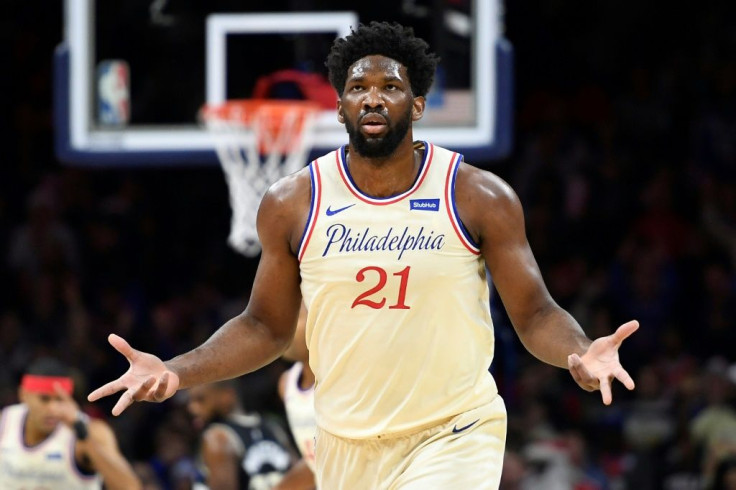 © Copyright IBTimes 2023. All rights reserved.