NBA: Rajon Rondo Injures Thumb, James May Have To Play The Point Until Playoffs
KEY POINTS
Los Angeles Lakers suffer big blow with Rajon Rondo suffering a thumb injury
Rajon Rondo to miss six to eight weeks due to thumb injury
LeBron James likely to play point guard for now
The Los Angeles Lakers are one of the favorites to win it all, assuming the NBA can finish the season despite the COVID-19 pandemic. However, the purple and gold just suffered a big blow with Rajon Rondo reportedly suffering a thumb injury. The 34-year-old guard is scheduled to undergo surgery this week and will be out for 6 to 8 weeks.
According to ESPN, Rondo suffered a fractured thumb and such could hamper the Lakers' guard rotation. Though he could return by the start of the second round of the NBA playoffs, there is a risk that the four-time NBA All-Star may not be at 100 percent.
With Rondo out, head coach Frank Vogel may opt to go with LeBron James at the point for now. The Lakers do have players like Quinn Cook and Alex Carusso to orchestrate plays. However, it remains that Rondo's veteran experience still stands out. With Rondo's return up in the air, it remains to be seen if their NBA title hopes will be affected.
An option for the Lakers is to get a player on a short-term lease. Among the names they may consider could be Isaiah Thomas. Though I.T. has been struggling, he could provide some playmaking help to the Lakers if they decide to get one.
The decision to sign someone from the free-agent market is an option for the Lakers. General manager Rob Pelinka could be considering that now and looking through the names of available talent. If not a playmaker, the Lakers could also opt to add firepower. But if the purple and gold go that route, James could be forced to do more of everything.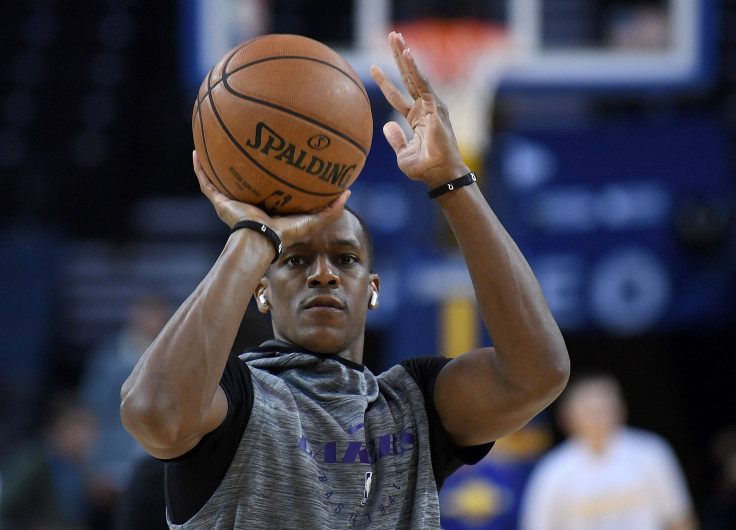 The Lakers could opt to stay the course and wait for Rondo to return. Vogel can make the necessary adjustments and hope that Rondo returns as scheduled. The development is also tough for the veteran guard who appeared in great shape recently. Rondo was spotted with a ripped body, easily showing he made the most of the COVID-19 break by staying in shape. He still has a chance to return by the playoffs though there remain questions if the thumb injury may affect his playmaking.
© Copyright IBTimes 2023. All rights reserved.