NBA Rumors: Anthony Davis To Rejoin Practice As Lakers Expect Play-In Return
KEY POINTS
Anthony Davis has been sidelined by a foot injury since mid-February
The Lakers are planning to have Davis rejoin the team in practice
Lakers coach Frank Vogel remains confident that they can still become title contenders this season
The Los Angeles Lakers are hoping to have a complete and healthy squad as they fight to keep their spot in the play-in tournament.
Anthony Davis has not been able to help the Lakers for almost a month now due to a terrible foot injury. However, ESPN's Adrian Wojnarowski recently said that there could be a light at the end of the tunnel.
Speaking to "NBA Countdown" Saturday, the reputable NBA insider revealed that Davis' walking boot has now been removed, and the Lakers are planning to have him begin light training as the "next step."
"Anthony Davis is making progress on that midfoot sprain that has kept him out since February 16th," he said. "His walking boot is off and I'm told this week that the next step now for him is he'll get on the court and start to do some stationary shooting."
The Lakers are currently ninth in the Western Conference, having gone 29-37 to date. Wojnarowski said that L.A. is expecting to "hang on" to their spot in the play-in tournament until Davis makes his return.
"The expectation is they can still hang on to the play-in, get in the post-season, that they can have Anthony Davis back," he added.
Lakers head coach Frank Vogel stressed earlier this month that the team still has its championship aspirations this season. For Vogel, if Davis can get healthy and the Lakers can get the "right matchup" come post-season, they still stand a chance.
"If [Anthony Davis] is able to come back and we catch the right matchup or catch a team at the right time and if we're able to catch fire at the right time, we're going to have a chance," Vogel told ESPN's Dave McMenamin.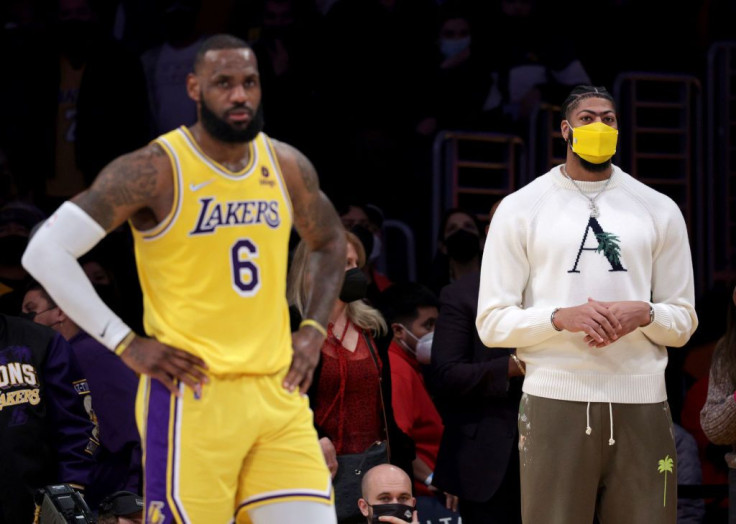 Prior to his latest injury, Davis has been of great help for the Lakers. He was averaging 23.1 points, 9.7 rebounds and 2.9 assists, shooting on an impressive 53.7% from floor.
Apart from Davis' return, Vogel is also optimistic about the resurgence of Russell Westbrook as the season comes to an end.
"We're going to get that Russell Westbrook to finish strong with us, and hopefully, if he starts playing to that level and [Davis] comes back, we look different than we have the entire season," the coach said last week.
"Again, the mindset with our group has always been through these struggles can we be the team that catches fire down the stretch," he added. "If you look at those pieces, that possibility is real. So we have to push through it."
© Copyright IBTimes 2023. All rights reserved.