NBA Rumors: Barnes, Hield Only Getting Traded If King-Sized Offer Made To Sacramento
KEY POINTS
The Sacramento Kings are not open to trading Harrison Barnes and Buddy Hield
The Kings will only entertain tempting offers for Barnes and Hield
The Kings have no plans to tank despite their woeful NBA record this season
The Sacramento Kings have hardly shown any improvement from last season, a reason why some of the team's players have been linked to potential NBA trade deals.
While it may make sense to give the Kings some chances to rebuild, Sacramento is not open to trading away Harrison Barnes or Buddy Hield in the immediate future.
Barnes and Hield are two names that have been repeatedly mentioned in the NBA trade rumor mill, but nothing has gone beyond that.
But according to Howard Beck of Sports Illustrated when he appeared on the Locked On Kings podcast, the only way that either or both players would be dealt is if they get an offer that would blow them away.
Beck added that the reason behind this is not because team owner Vivek Ranadive overvalues Harrison Barnes or Buddy Hield. Rather, the Kings' owner does not believe in tanking and prefers to see the Kings remain competitive.
The Kings are 16-24 as of this writing and are 5.5 games behind the eighth-seeded Dallas Mavericks. Though there is still time, a good ploy to turn things around is for Sacramento to tweak their roster and see if they can catch up.
However, Hield is someone that has been linked to several trade rumors a few months ago. The New York Knicks, a team looking to shore up its backcourt, has been mentioned although nothing has gained ground.
Hield is one of the players that the Kings could unload considering the club has three players making over $20 million next season.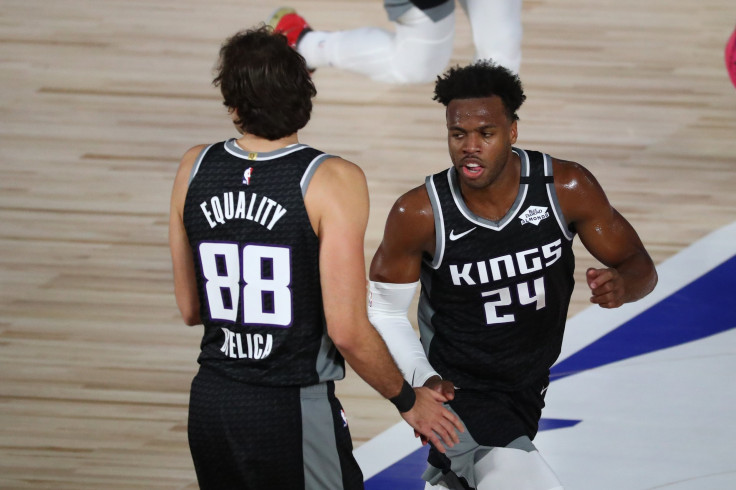 As for Barnes, his name has been mentioned in several trade scenarios. Among the teams who could use the 28-year-old's services include the Boston Celtics, a team looking for added firepower and a consistent forward in the rotation.
But as reported by Sam Amick of The Athletic, the Kings do not appear to be interested.
With the NBA trade deadline on March 25, trade rumors involving Hield or Barnes are expected to make some rounds.
© Copyright IBTimes 2023. All rights reserved.