NBA Rumors: Boston Celtics Lose Starter Due To Injury?
The Boston Celtics' hot streak is in danger of being derailed by an injury to one of the team's most important players. Center Robert Williams has suffered a torn meniscus that could sideline him through the end of the regular season, if not for much longer, according to reports.
Williams is expected to miss several weeks, at minimum, with a left knee injury, ESPN's Adrian Wojnarowski reported Monday. The timeline suggests that Boston's starting center won't be ready for the start of the playoffs on April 16.
Williams suffered the injury Sunday in the Celtics' win over the Minnesota Timberwolves, 134-112. It was yet another dominant win for Ime Udoka's squad, which has been on a long hot streak.
The Celtics are 22-3 in their last 25 games, led by an outstanding defense. The athletic Williams has been a force in the interior.
In addition to his 2.2 blocks per game, Williams has held opponents to under 40% shooting when he is the closest defender. That's the lowest opponents' shooting percentage for any player who has defended at least 500 shots, according to ESPN.
Williams is averaging career highs of 10 points, 9.6 rebounds, 2 assists and 0.9 steals per game.
Boston has the league's best defensive efficiency, allowing just 105.9 points per 100 possessions. The Celtics are atop the latest Eastern Conference standings, tied with the Miami Heat for the best record.
The Celtics only have seven games left on the regular-season schedule. The first round of the playoffs starts in 19 days. The conference semifinals can start as early as April 30.
Even losing Williams for one playoff round could seriously hurt Boston's chances of reaching the 2022 NBA Finals. The Celtics are currently on track to face the Brooklyn Nets in the first round and former Celtic Kyrie Irving will be available to play in both home and away games.
The Nets eliminated the Celtics in five games in the first round of last year's playoffs.
In Williams' absence, backup center Daniel Theis should see increased playing time. Since being traded back to the Celtics earlier this season, Theis is averaging 5.3 points, 4.1 rebounds and 0.9 blocks in 13.9 minutes per game.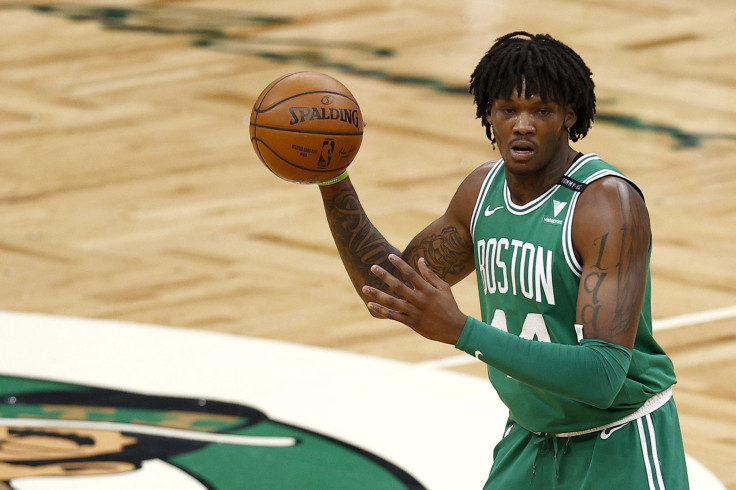 © Copyright IBTimes 2023. All rights reserved.