NBA Rumors: Carmelo Anthony Prefers To Leave Knicks Alone, Won't Mess Up Rebuilding Efforts
KEY POINTS
Carmelo Anthony douses rumors that he will return to the Knicks
He is content with his reserve role with the Blazers
Anthony knows the Knicks are heading in a direction where he may not fit
Carmelo Anthony continues to prove detractors wrong, but he knows adjustments are needed. A perfect example of that is his current role with the Portland Trail Blazers.
But given that he was able to prove that he still had what it takes to play at a competitive level, joining another club and possibly landing a starting role was suggested. The New York Knicks were mentioned as a potential landing spot, with the team now in rebuilding mode.
While it made sense, Anthony prefers to leave things the way they are. He revealed that he has never really seriously considered it, SNY.tv reported. He was aware that the Knicks were headed in a particular direction and knows that they are not done. With new people at the helm, the 36-year-old prefers not to mess up those plans.
"The Knicks were making moves and were trying to figure out the direction they wanted to go in. They weren't done making moves. I'm sure they have a plan. I don't think me coming in and trying to mess their plan up was good for either party," Anthony said.
That said, Anthony's statement should put a lid on any possibility of seeing him return to Gotham. He is at a crucial point in his career and is aware that it could end anytime. Hence, the best he can do is accept any role given to him and play his best once he is called on to perform.
Right now, he has to be content with a reserve role with the Portland Trail Blazers. After head coach Terry Stotts announced his planned starting five, the 10-time All-Star admitted that it was a big pill to swallow, ESPN reported.
"I had to swallow that pill. I had to be really honest and transparent with the team and organization," Anthony said.
Regardless, seeing as how the Blazers gave him a chance when other NBA teams were hesitant, he appears to be fine with the idea. He admitted that it was not a tough decision and seems to be content playing on with Portland.
"It really wasn't a tough decision," Anthony said of re-signing with the Blazers. "I've always felt like I was coming back. It was something we discussed after the bubble. It was always a part of the plan. The decision wasn't tough."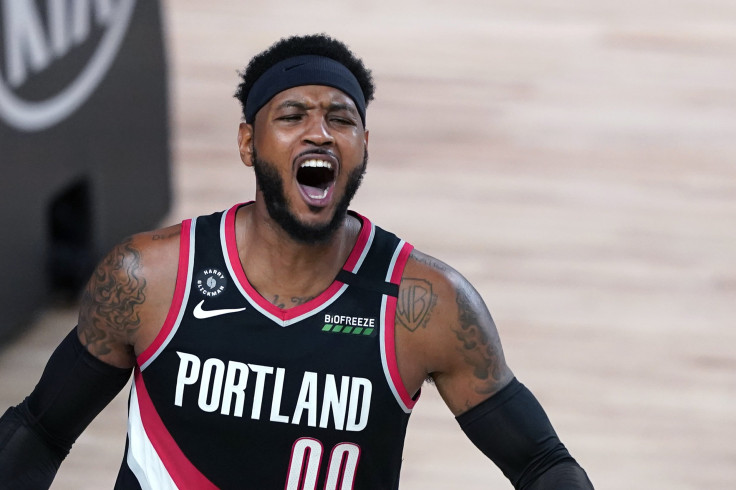 © Copyright IBTimes 2023. All rights reserved.