NBA Rumors: Ex-Clipper's Cryptic Tweet After Team Lost To Dallas Twice
KEY POINTS
Montrezl Harrell joined the Los Angeles Lakers during the 2020 offseason
His former team--the Clippers--are down 2-0 against the Dallas Mavericks
Harrell posts a cryptic tweet seemingly taking a jab at his former team
Being down 2-0 in a playoff series after playing both games at home is certainly not a good look.
That is the perilous position the Los Angeles Clippers are in right now after dropping back-to-back home games to the lower-seeded Dallas Mavericks.
Former Clipper Montrezl Harrell seemed to have taken notice, posting a jab on Twitter shortly after his ex-team fell to a 2-0 hole in their Western Conference playoff first-round series.
"Just gone enjoy life man," the 2020 NBA Sixth Man of the Year exclaimed, preceded by laughing emojis.
It is worth noting that in December 2020, Paul George seemingly pointed out Harrell as one of the "problems" of the Clippers.
The franchise was eliminated in the West semifinals by the Denver Nuggets during the 2020 playoffs.
Another case for Harrell tweeting the post is the Clippers' alleged tanking to avoid the Lakers, losing their last two regular season games to wound up with the fourth-seed and play the Mavericks.
Harrell joined the Lakers in the offseason, and while the defending champions have not had a superior regular season record, they are quite in a better position than the Clippers two games into the postseason.
The Lakers beat the Phoenix Suns in Game 2 behind Anthony Davis' 34 points, splitting their two road games to head back to the Staples Center with a 1-1 score so far and momentum.
That is definitely a more enjoyable position for the Lakers, given they will be at home for Games 3 and 4.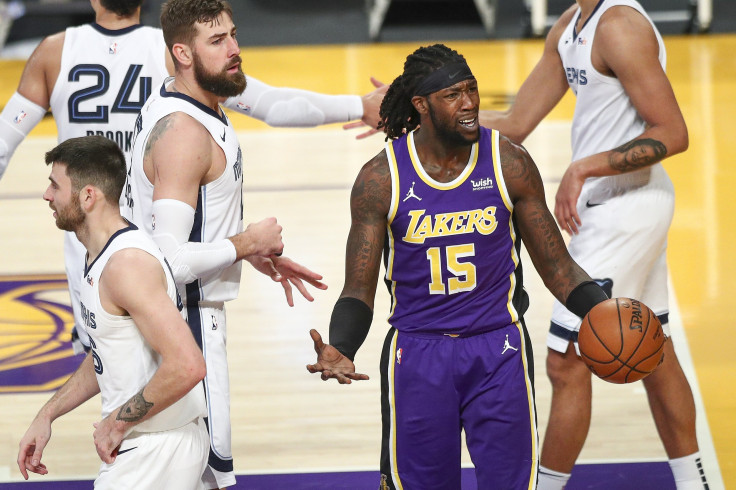 © Copyright IBTimes 2023. All rights reserved.