NBA Rumors: Ex-Lakers Center Explains Decision To Move To Philly; Will He Fit In?
KEY POINTS
Andre Drummond said he sees the Philadelphia 76ers as a "great fit"
The Lakers' moves in the offseason convinced Drummond it was time to move on
Drummond is ready to come off the bench and play behind Joel Embiid
Andre Drummond was formally introduced by the Philadelphia 76ers recently after agreeing to a one-year deal. The move was a bit surprising since the 6-foot-10 agreed to a veteran's minimum, something he could have easily gotten with the purple and gold.
As most know, the Lakers are pressed for cash and limited to signing players who are amenable to low pay. Drummond could have made sense, but the All-Star center did not exactly fit in well with the Lakers last season.
It appears that the recent moves of the Lakers played a role in Drummond's decision.
"Times is changing, and they made different trades and different changes to their team to where it didn't make sense for me to go back there," Drummond stated at his introductory press conference on ESPN.
Considering he already struggled to fit in last season, the new faces in the mix may potentially make life harder for the 27-year-old cager. Hence, he revealed that he did the next best thing, which was to join the Sixers.
"I just took the next best thing after that, and it was to come to Philly. I think it's a great fit for me," Drummond said.
Whether or not Drummond would fit in well with the Sixers remains to be seen. Ironically, he will be teaming up with Joel Embiid, with whom he had a feud over a flop by the Sixers center that got Drummond ejected.
But it appears all that is in the past. Embiid was among the first players to welcome the 6-foot-10 center to the fold.
Drummond later explained that he never really felt there was any beef. He pointed out that he and Embiid are competitive and that it just so happened that the game became heated.
It remains to be seen how Drummond can co-exist with Embiid, assuming they play simultaneously. The middle could get a bit clogged, raising questions about how both Drummond and Embiid can properly space themselves next NBA season.
The mission of resolving that will be left at the hands of Doc Rivers. Drummond added that the coach played a key role in convincing him to join the 76ers as he is someone he always wanted to play for.
"I think it was a no-brainer. I've always wanted to play for Doc. When I got the chance to play for him, I took the chance," Drummond said.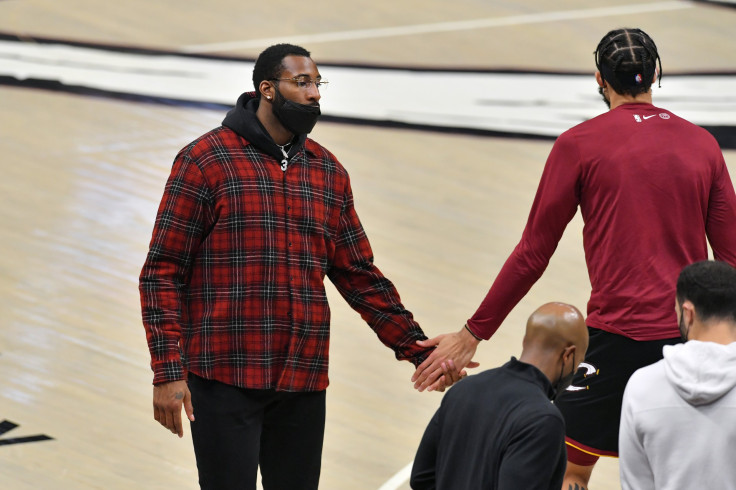 © Copyright IBTimes 2023. All rights reserved.