NBA Rumors: Former Coach Gets Burned, Blamed For Howard Misfit In 2014
KEY POINTS
D'Antoni points out why Howard is succeeding with the Lakers
Buss says D'Antoni part of why Howard failed in 2012-13 season
Howard likely to be courted by teams this summer
Dwight Howard has successfully resurrected his NBA career and multiple people are happy for him. That includes his former coach, Mike D'Antoni. He even pointed out a reason why the former top NBA pick is thriving nowadays.
According to the current Houston Rockets mentor, Howard is succeeding because he no longer demands touches when posting down low. As most know, the 6-foot-11 center is coming off the bench, a role he accepted before signing for a second stint with the purple and gold. Unlike before, Howard is pinch-hitting at the center behind Anthony Davis and JaVale McGee. It may be a downgrade of sorts but working for the 34-year-old center.
Howard struggled to co-exist with Kobe Bryant and other stars back in 2014. At the time, he was still at the peak of his career and wanted to be top dog. Joining a star-studded roster needed him to lower his expectations, playing second fiddle to the late Lakers superstar. He ended up moving out, ironically joining the same team that D'Antoni coaches for the past several NBA seasons.
Worth noting is that D'Antoni never thrived with a true center onboard. He is doing that right now, leaning on firepower to get the job done. While it has been working in the regular season, it remains to be seen if the results will be the same by NBA playoff time. P.J. Tucker is holding up his own in the middle despite his 6-foot-5 frame.
It did not take long for Lakers owner Jeanie Buss to take a swipe at the former Lakers head coach, the Los Angeles Times reported. According to Buss, it was a matter of hiring the wrong coach when Howard joined the team during the 2012-13 NBA season. Looking beyond that, there were a lot of factors as well. Steve Nash and Bryant were unable to finish the season due to injuries.
At the time as well, Howard would have resented playing second fiddle. Multiple teams were willing to take him in and be there starting center. As most know, things just went bad for the eight-time NBA All-Star although his renaissance could lead to better things this summer.
Proving he can still play, Howard is expected to get offers from other teams this summer. The Lakers may not have enough money to keep him although the final say remains with Howard. For now, the immediate goal is to win an NBA title. Once that happens, the script could change for the three-time NBA Defensive Player of the Year.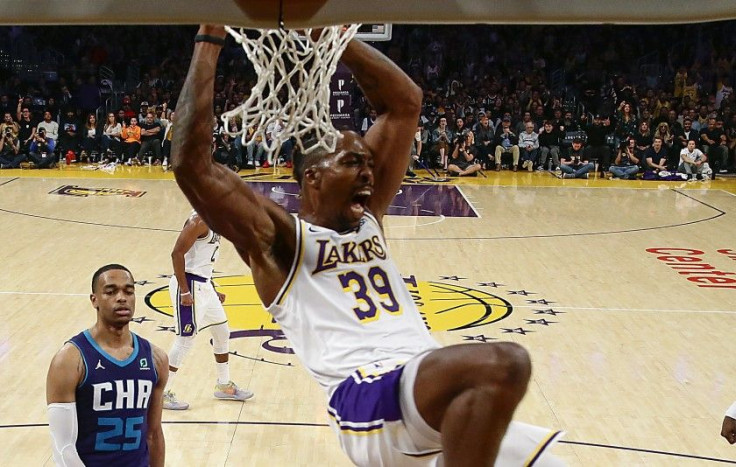 © Copyright IBTimes 2023. All rights reserved.