NBA Rumors: Kemba Walker's Options Next Season Include Possible Return To Charlotte
KEY POINTS
Kemba Walker returning to the Charlotte Hornets is possible
The New York Knicks may opt to buy out the contract of Walker
Walker's next stop may see him coming off the bench
Kemba Walker will have to wait until the NBA offseason to figure out where he will be headed next.
The four-time All-Star's stint with the New York Knicks failed to live up to expectations, and now the 31-year-old guard will have to find a new home in the summer.
Given that the No. 9 overall pick of the 2011 NBA Draft has been plagued by injuries and has missed games, there is no telling if teams are still willing to take a chance on him.
A likely scenario for the two-time NBA Sportsmanship award winner is to lower his expectations.
Walker is likely to be taken in as a backup guard, a role that he may have to get used to.
This is even though Walker has been known to be a streaky shooter, someone who can get going and pour in points.
However, that drive will also depend on whether the team he is playing for performs well.
One team that comes to mind is Walker's former team, the Charlotte Hornets.
Most know that the Hornets have a lot of guards right now and the focus is on LaMelo Ball.
Unless head coach James Borrego changes his rotation or opts for a small-ball lineup, the likelihood of Walker getting the starting nod is not an assurance, Trejan Rowbotam of Swarm Sting suggested.
There are several factors to consider. Aside from the present crop of players, there is also the money on the table.
Walker signed a two-year $17.9 million deal with the Knicks before the 2021-22 season.
After this season, the 6-foot-1 guard is due to make about $9 million.
This will be the money needed for the Hornets to take in Walker. That is unless a buyout between him and the Knicks happen.
Even if it does, the New York native could still ask for big money, something that may no longer be in his control.
The reality for Walker is that he may be running out of options.
Despite career averages of 19.5 points, 5.3 assists and 3.8 rebounds, the numbers of Walker have dramatically dipped since he left the Hornets for the Boston Celtics in the 2019-20 season.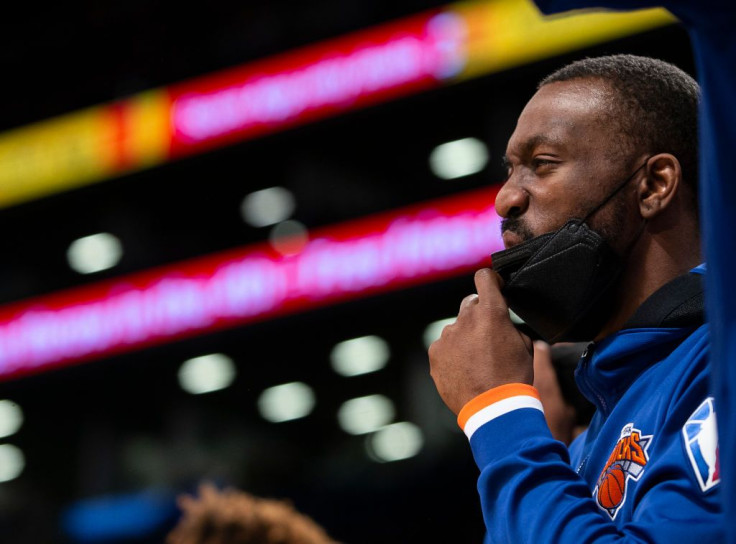 © Copyright IBTimes 2023. All rights reserved.