NBA Rumors: Korver May Play One Last Time But For A Title Contender
For Kyle Korver, there is no question that he will go into the NBA record books as one of the best three-point shooters the league has had. But at 38, it looks like he is more likely to retire than play one more season with the Utah Jazz. One reason for this is that he holds a non-guaranteed deal - meaning Utah could opt to target other younger free agents instead.
Looking at his resume, the only thing missing for Korver is an NBA title. The closest he got to that was back in 2017 when he was traded to the Cleveland Cavaliers for Mike Dunleavy and Mo Williams plus cash considerations and future draft picks. LeBron James was still with the Cavs at that time. Cleveland ultimately fell to the Golden State Warriors via 0-4 sweep before everything just broke down for the Cavaliers.
With the Cavs finding themselves in rebuilding mode, Korver found himself on a cloud of uncertainty. Though he still has the touch from the outside, Dan Gilbert was retooling the team and looking at younger players. At some point, the one-time NBA All-Star would be traded. This did happen and he was shipped to the Utah Jazz, a team he previously played for from 2007-10.
Holding a non-guaranteed contract, there is a high chance that the Jazz may pass on Korver, according to the Bleacher Report. The 38-year-old from Creighton will likely find himself in the free agent market, although this holds no promise. Then again, there are cases where teams try out some old hands, especially if they can still knock it in from the outside. But would it make sense for Korver?
At this point, he is likely to be offered a minimum deal. Any team can do so but Korver is likely to check out the team making an offer. Should he agree, it will most likely be his last season. And to make sure that it will be a sweet exit, it has to be a team that has high chances of winning the NBA title.
Of course, the Golden State Warriors, Houston Rockets, Toronto Raptors or even the Milwaukee Bucks come to mind. These are teams who thrive on a run-and-gun philosophy and one of the reasons why a lot of NBA teams are prowling free agency for shooters.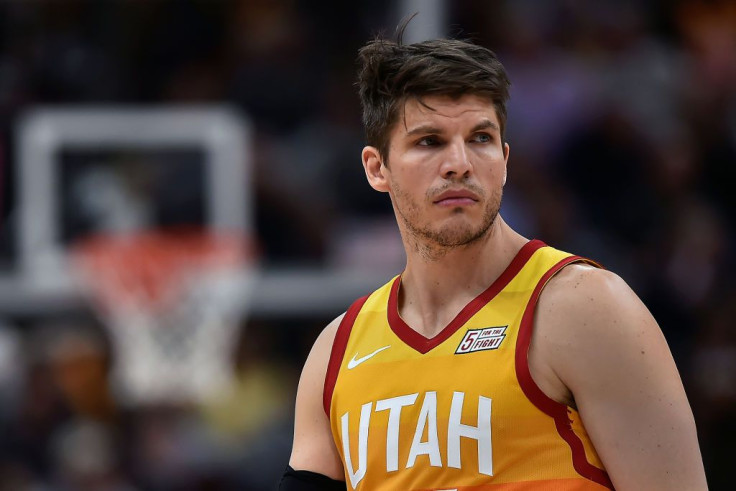 Korver is unlikely to play long minutes and come off the bench. If this is the scenario he is willing to take, we may just see him suiting up one last time. But first, he needs to recuperate from his knee injury before making a final decision, The Salt Lake Tribune reported.
© Copyright IBTimes 2023. All rights reserved.