NBA Rumors: Lakers Guard Can Only Move Out From Hollywood After January 2022
KEY POINTS
Talen Horton-Tucker cannot be traded to any other team until January 15, 2022
The Lakers are unlikely to trade away Horton-Tucker unless it involves a big name
Horton-Tucker is considered a vital piece for the Lakers despite playing backup to the team's top stars
The Los Angeles Lakers are trying to find answers, one of which is taking in new players.
But for the cash-strapped franchise to do that, they need to sacrifice some of their current players.
One name that has been at the top of the list of several NBA teams is Talen Horton-Tucker.
The 21-year-old guard has long been linked to a potential move out of Los Angeles, some believing that his potential could be fully maximized elsewhere.
It appears the same holds right now. However, any team interested in acquiring the 6-foot-4 guard will have to wait.
Because of his Bird Rights, the Illinois native cannot be traded until January 15, 2022, per the report of Bleacher Report.
Considering the spot minutes that the 46th overall pick of the 2019 NBA Draft has been getting, the production is more than modest.
In 15 games this 2021-22 season, Horton-Tucker is averaging 11.3 points, 4.5 rebounds, and 2.9 assists.
One can only imagine how those figures would balloon if he gets more time on the floor although he has been getting more chance this year with 28.8 minutes per outing.
The Lakers are allegedly interested in a couple of names that could be added to Frank Vogel's roster.
Jerami Grant and Ben Simmons have been mentioned by Shams Charania of The Athletic. However, getting both may take more than just having Horton-Tucker in a potential deal.
Horton-Tucker is only in his junior year, but his fit into the Lakers is apparent.
With a loaded roster, he is one of the role players that have been overlooked but is yet effective when called to the floor by Vogel.
His fortunes may change come the 2023-24 season, the time when he can exercise his player option.
Like most young players who have moved out of Hollywood and went on to blossom elsewhere, the 21-year-old is likely to experience the same.
For now, the Lakers are unlikely to budge and deal Horton-Tucker. But the story may be different once the young guard is eligible to get a bigger pay.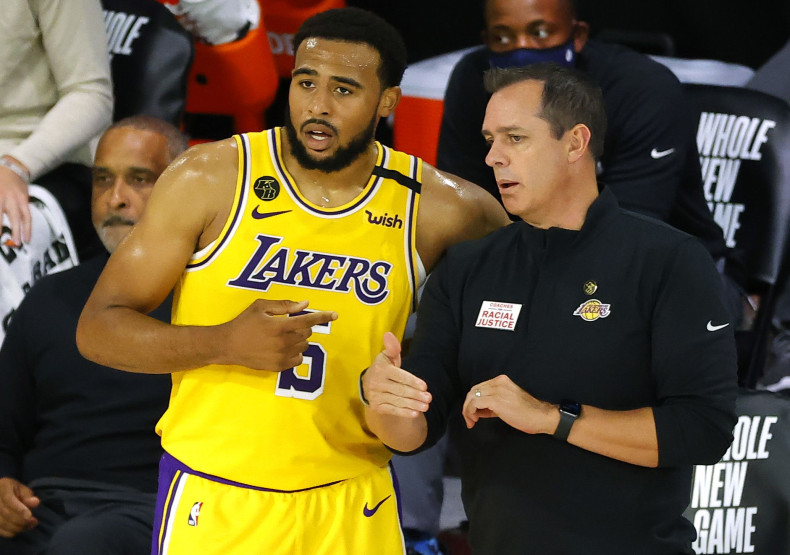 © Copyright IBTimes 2022. All rights reserved.