NBA Rumors: Nets Players Questioning Ben Simmons' Commitment After Playoff Exit – Report
KEY POINTS
Ben Simmons didn't play in Game 4, citing back pain and mental health issues
His commitment to the Brooklyn Nets was questioned following the team's NBA playoff exit, a report says
Simmons reportedly was encouraged to suit up by people close to him to establish deeper ties with his Nets teammates
Ben Simmons did not play a single minute this 2021-22 NBA season despite changing teams, and some of his Brooklyn Nets teammates have questioned his commitment to the team, according to reports.
The Nets ended their disappointing season Monday after getting swept by the Boston Celtics. Now, the blame game has started, and Simmons appears to be unable to avoid being a target.
Before the Nets were booted out by the Celtics, there were reports that the 2018 NBA Rookie of the Year would suit up and make his season debut in Game 4. But Simmons didn't play, citing back pain and continuing mental health issues. The 6-foot-11 cager was not even on the bench for the Nets during the game.
Shams Charania of The Athletic reported, citing unnamed sources, that Simmons is still suffering from a mental block that started during last year's NBA playoffs when he was still with the Philadelphia 76ers.
The mental issue is creating stress that could serve as a trigger for his back issues, according to Charania's sources.
But there is "confusion" among Nets players regarding Simmons' "perceived lack of attempt to play, effort to be in uniform and push his body," especially since there were high stakes in the NBA postseason wars, the report said.
Nets players and coaches reportedly "wanted to see Simmons show resolve and enter this series to start his on-court Brooklyn tenure," according to the journalist.
Had he joined the team, Simmons would have played sparse minutes since he has yet to familiarize himself with the system of head coach Steve Nash.
People close to Simmons encouraged him to take the floor even for a limited time, according to a report from Jake Fischer of the Bleacher Report. It would have also helped him establish a deeper connection with his teammates heading into the next NBA season.
With the offseason approaching, Simmons finds himself unable to get through the mental issue that plagued him throughout most of the 2021-22 season with the Sixers. Unless it gets resolved soon, the Nets may find themselves dealing with the same problem.
As for his tenure with the Brooklyn Nets, questions are in the air when it comes to his commitment to playing for the NBA team. Hence, the Nets head into an offseason with lots of questions needing to be answered – including the status of the three-time All-Star.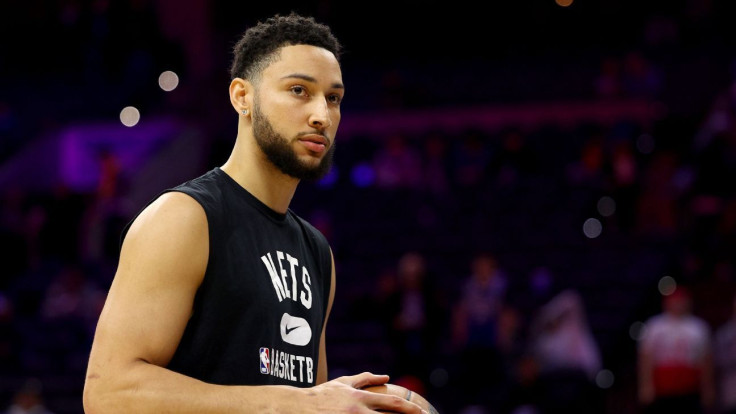 © Copyright IBTimes 2023. All rights reserved.