NBA Rumors: Winning Title Would Be Fitting Swan Song For Vince Carter
Vince Carter is going for an NBA record, that of which is the only one to play 22 seasons in the pro circuit. However, he needs to find a team first. At 42, he may have his work cut out for him as he jockeys for positioning on which team to suit up for next.
Last season, Carter showed he can still be of help to any NBA team. He missed only six games and averaged 7.7 points, 2.6 rebounds, and 1.1 assists in 76 games last season as an Atlanta Hawk. But as mentioned in a previous article, his presence was more of guiding the young guns and showing them how to play NBA ball. Being in the league for 21 seasons, it is obvious that Vinsanity has plenty to show.
As of this writing, Carter's next stop is a mystery. Most teams are now opting to sign younger players, one of the realities that the former slam dunk king will have to realize. One plausible target for the 5th overall pick of the 1998 NBA Draft is to hook up with a team that can win a title. Looking at his resume, it is perhaps the crowning glory for someone who has been in the league for so long.
The Golden State Warriors could be ideal, assuming Steve Kerr is willing to add him to the rotation. The Dubs have the right core of players and adding Carter, someone likely to agree to a veteran's minimum, makes sense. It all depends on who will be left off by the Warriors after the 2018-19 NBA season.
If not the Warriors, Carter could lower his expectations a bit by joining up and rising teams. The list includes the Houston Rockets, Milwaukee Bucks or the Philadelphia 76ers, Basketball Insiders reported. These are the hottest teams right now, all battling in the second round of the ongoing NBA playoffs. There are plenty of neophytes to mentor so adding the eight-time NBA All-Star is possible.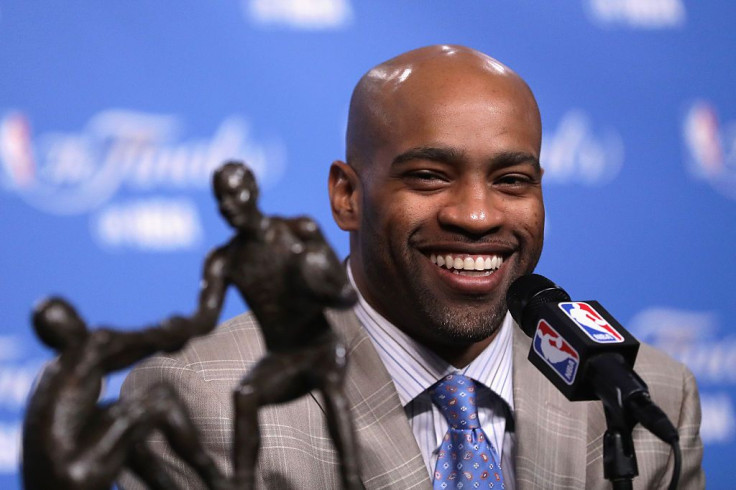 If not a title, Carter could end his career where it all started - the Toronto Raptors. Paul Pierce and Kevin Garnett did it with the Boston Celtics and the Minnesota Timberwolves so why not Carter in Toronto? And if the core group of the Raptors is retained, they may even have a chance at an NBA title. This depends as well on who stays and goes - specifically the case of Kawhi Leonard. As one can see, Cater has options. The only thing remaining is who will bite and be part of history.
© Copyright IBTimes 2023. All rights reserved.