NBA Trade Rumors: Bucks Moving Greg Monroe? Who Would Take Him, Contract?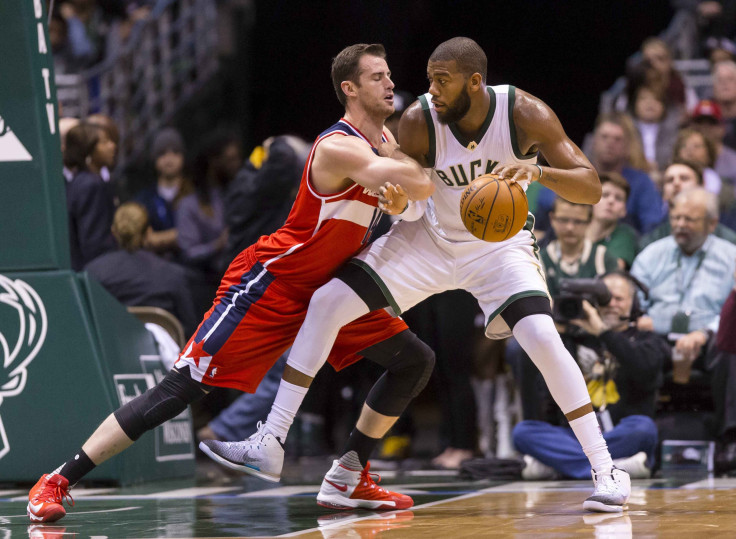 Talented, passing big man Greg Monroe has long been at the center of trade chatter for much of his career, and it appears the Milwaukee Bucks are hoping to move the 6-foot-11 former lottery pick before the trade deadline.
Monroe, who's been a solid backup behind starting center John Henson with 9.6 points and 6.7 rebounds over only 19.4 minutes, is reportedly on the block, a league executive told Racine Journal Times columnist Gery Woelfel for his personal blog.
The 26-year-old Monroe, now in his seventh season after Detroit took him No. 7 overall in the 2010 draft, is a more than serviceable two-way player but Milwaukee could afford to lose his size while gaining either a younger guard, draft pick or even some salary cap space.
Other than Henson and Monroe, the Bucks can also play rookie Thon Maker or could slide smooth shooting combo forward Mirza Teletovic to center if head coach Jason Kidd favors a smaller lineup against a quicker opponent.
The Bucks (14-15), headlined by the improving duo of Jabari Parker and Giannis Antetokounmpo, are presently No. 8 in the Eastern Conference and are hoping to return to the postseason after missing out last season. Moving Monroe for a point guard, rather than having Antetokounmpo run the offense, could be beneficial to those hopes and take some pressure off Antetokounmpo, who leads the Bucks in almost every statistical category.
However, whichever team takes Monroe is likely to eat the final year of his contract. Monroe inked a three-year $51.4 million deal with Milwaukee in 2015 and he holds a player option for the final season, 2017-18, for more than $17.8 million. He's making $17.1 million this season, according to Spotrac.
Still, Monroe could be a solid pickup for a number of teams struggling on the boards. The Boston Celtics, long at the heart of trade rumors due to their batch of young players and draft picks, are No. 27 in the league in rebounding while the Utah Jazz (No. 25), Portland Trail Blazers (No. 25) and the high-flying Toronto Raptors (No. 24) could also use more help on the glass.
Adding Monroe could help Boston, Toronto or Utah improve their playoff chances, and perhaps aid Portland's quest to climb back into the Western Conference's race.
© Copyright IBTimes 2023. All rights reserved.