NBA Trade Rumors: Cavs, Sixers Working On TJ McConnell Deal? What Cleveland Can Do To Help LeBron James, Kyrie Irving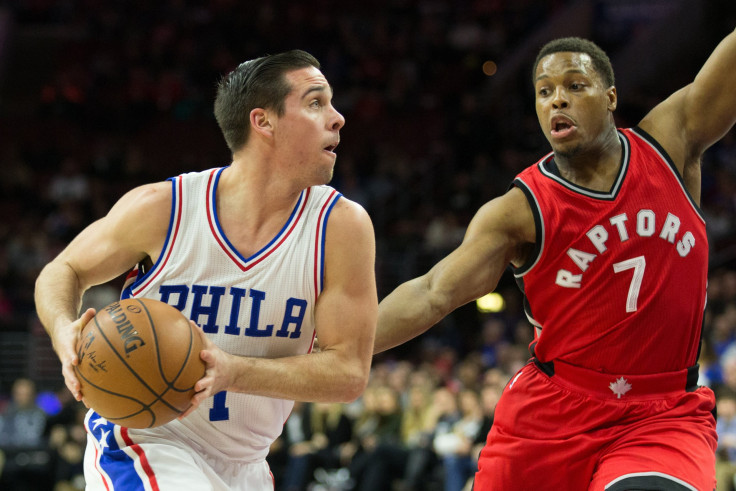 LeBron James clamored for Cleveland Cavaliers management to step up and add a playmaker to the defending champion's roster, and they reportedly reached out to the Philadelphia 76ers.
The four-time MVP and three-time NBA champion James said he wanted to make sure the Cavs weren't simply content with winning one title last season and were hungry for more, comments that reportedly angered owner Dan Gilbert, who James has had a highly contentious relationship with in the past.
But Cavs general manager David Griffin evidently still tried to satisfy James by attempting to pry point guard T.J. McConnell from the Sixers several weeks ago, around the time of James' perceived criticism, the Philadelphia Inquirer reported Sunday.
The Sixers rebuked the struggling Cavs' – Cleveland has a 4-7 record in their last 11 games - overtures for a deal that would've netted the recently surging Sixers young guard Jordan McRae in return. McRae was drafted by the Sixers in the second round of the 2014 NBA Draft but later played in Australia before Philadelphia waived him before the start of the 2015-16 season.
The 25-year-old McRae eventually signed with Cleveland in March and was assigned and recalled to its developmental league affiliate, the Canton Charge, before joining the roster full time this season. McRae's played in 31 games, starting three, while averaging 4.6 points and 1.2 rebounds over 10.7 minutes per contest.
McConnell, who went undrafted out of Arizona, has become a fixture in Philadelphia's starting lineup and likely a desired asset among a number of NBA teams. He's started the Sixers last 15 games, 10 of which have resulted in victories and helped Philadelphia climb back into the Eastern Conference playoff race. In particular, the 24-year-old Pittsburgh native has stuck to running Philadelphia's offense rather than score himself, notching 10 or more assists in five of Philadelphia's last six games.
Based off Sixers' head coach Brett Brown's comments to the Philadelphia Inquirer a trade appears unlikely.
"Of course we want to keep him," Brown said. "He's been as big a part of the reason for our recent success as anybody. You can't deny that."
McConnell's contract is also highly valuable to a salary cap space-strapped team like the Cavs. McConnell's earning more than $874,000 this season, and just over a million next season with a team option of $1.08 million for the 2018-19 season. Cleveland's currently over the cap by $33.4 million and the luxury tax threshold by $14.3 million, resulting a league-high $127.6 million in player salaries, according to Spotrac.
That leaves Cleveland and Griffin with fewer options, considering James, point guard Kyrie Irving and power forward Kevin Love taking up nearly $70 million of the cap and few young prospects to offer potential trade partners.
James is right that Cleveland needs to fill out its bench. The Cavs are currently No. 28 in the league in bench scoring at 28.7 points per game and the recent acquisition of sharpshooter Kyle Korver from Atlanta hasn't helped as much as they had hoped.
© Copyright IBTimes 2023. All rights reserved.