NBA Trade Rumors: James Harden For Kyrie Irving? Nets Ready To Make Deal
James Harden has made it clear that he no longer wants to play for the Houston Rockets. Kyrie Irving's latest actions make it unknown whether he actually has any interest in suiting up for the Brooklyn Nets anytime soon.
So why not swap the two superstars?
It's a deal the Nets are prepared to make, according to FS1's Nick Wright, who said Wednesday morning that Brooklyn is willing to trade Irving for Harden. Brooklyn is reportedly prepared to send a wealth of draft picks to Houston in exchange for the three-time scoring champ.
Shortly before the start of the season, it was reported that Harden asked for a trade to the Nets. The Rockets guard has since expanded his list of preferred destinations.
"I love this city. I literally have done everything that I can," Harden said Tuesday after the Rockets' 117-100 loss to the Los Angeles Lakers. "I mean, this situation is crazy. It's something that I don't think can be fixed."
Only the Minnesota Timberwolves have a worse record in the West than the Rockets.
Houston is uninterested in acquiring Irving, Wright reports. Irving hasn't played since Jan. 5 because of "personal reasons." Videos of Irving attending what appears to be a family birthday party have gone viral, raising questions as to why he actually isn't playing.
The Rockets have remained steadfast in their asking price for Harden. Houston is seeking a young player who has the potential to be a franchise star, in addition to a massive haul of first-round draft picks.
The Philadelphia 76ers had been considered the frontrunners to trade for Harden. On Wednesday, one sportsbook made Brooklyn the betting favorite to acquire Harden.
Houston is examining trade offers from the 76ers and Nets, and a deal could come together soon, The Athletic's Shams Charania reports.
With Kevin Durant and Irving set to take the court as teammates in Brooklyn for the first time, the Nets entered the season as one of the favorites in the East. Durant has played at an MVP-caliber level. Irving has missed five of the team's 12 games.
The Nets are in seventh place in the East with a 6-6 record.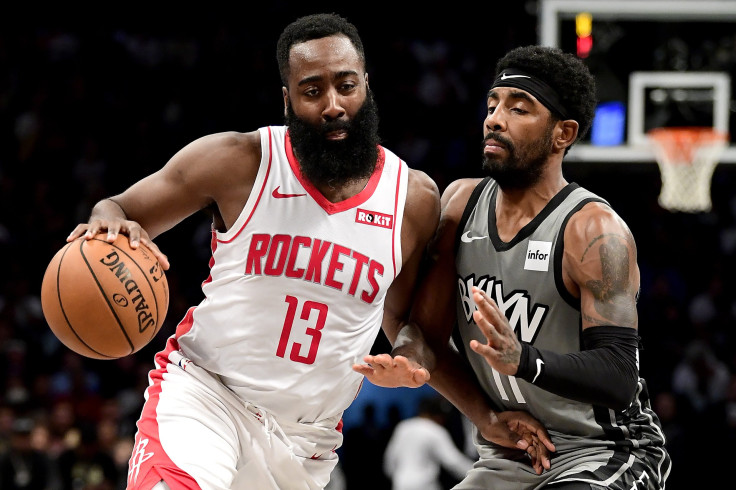 © Copyright IBTimes 2023. All rights reserved.