NBA Trade Rumors: Knicks Ready To Swoop In On Hayward, Await Celtics Decision
KEY POINTS
Gordon Hayward has options if he opts out of his deal with the Celtics
The Knicks are ready to take in Hayward and negotiate a deal with Boston
Hayward could be one piece of the Knicks' planned NBA rebuild moving forward
The New York Knicks have several big names on their list, with Gordon Hayward being one of them. Despite the injury history of the 30-year-old cager, New York is reportedly interested in a trade if the Celtics no longer want him around.
However, this can only materialize if Hayward and the Celtics finalize their plans. The All-Star forward has a player option for the 2020-21 season where he would make $34 million. Hayward has not made a decision yet, although some feel he will opt-in.
Even if Hayward were to opt-in, the Celtics would still have the last say. This would be under a sign-and-trade scenario. Boston could deal him to the Knicks if they feel it is time to move on, Kevin O'Connor of The Ringer reported.
The scenario would change if Hayward opts out of that deal with Boston. The Knicks would end up pursuing the 9th overall pick of the 2010 NBA Draft and make their offer.
But the problem with this is that the Knicks would have to contend with other teams interested in Hayward. Despite his struggles with staying healthy, there are squads interested in taking in the 6-foot-7 cager. Among the teams who could swoop in include the Atlanta Hawks and the Indiana Pacers, O'Connor said on The Ringer NBA podcast "The Mismatch."
The Hawks are looking for a player to help out Trae Young, while it would be a homecoming for Hayward if he goes to the Pacers. Other teams worth considering include the Portland Trail Blazers, Phoenix Suns and the Denver Nuggets.
With the Celtics, Hayward played in 52 games, averaging 17.5 points, 6.7 rebounds and 4.1 assists in 33.5 minutes of action, per Basketball-Reference. Those are fairly good numbers, but his best season was during his final year (2016-17) with the Utah Jazz. He normed 21.9 points, 4.7 rebounds and 3.5 assists that year.
Should he end up with the Knicks, Hayward could be one of the main stars team president Leon Rose and head coach Tom Thibodeau is trying to assemble. Aside from the 2010 Horizon League Player of the Year, other names being linked to New York are Chris Paul and Russell Westbrook.
Also worth noting is that the Knicks are picking 8th in the 2020 NBA Draft Wednesday. New York is looking at trades to move up to hopefully get their hands on LaMelo Ball.
The Celtics are also open to trading their multiple first-round picks to move up and get one solid player. Unfortunately, the Knicks are unlikely to be interested in that unless it involves other assets like maybe Hayward and more.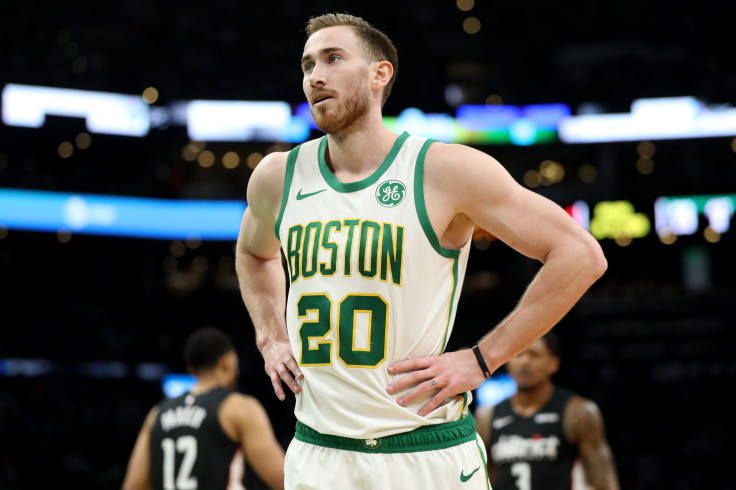 © Copyright IBTimes 2023. All rights reserved.