NBA Trade Rumors: Lakers Hoping To Pull Nearly Impossible Trade For Sputtering Ex-MVP
KEY POINTS
The Lakers are allegedly trying to trade Westbrook, but his contract will prevent it from happening
Frank Vogel is hopeful Westbrook can bounce back and find his groove
The Lakers have until February 10 to get an interested team to take in Westbrook
The Los Angeles Lakers are aware that it won't be easy dangling Russell Westbrook to other teams.
The NBA trade deadline is days away, but unnamed executives claim that the club remains hopeful.
According to the unnamed league executive, the Lakers are still trying to move the 33-year-old All-Star.
Aware that their current mix is not running efficiently, the chances of getting a taker for Westbrook do not look promising.
"It's obvious they're trying to move Westbrook, which is damn-near impossible," the league executive reportedly stated in a report from Heavy.com. "They know that roster's just not working."
Westbrook is undoubtedly a player that can deliver from any team. But given that most teams are tightening their belts, the money needed to maintain the 2017 NBA Most Valuable Player is seen as a big problem.
The 6-foot-3 nine-time All-Star carries a lofty $91.2 million salary that runs through next season.
Most teams are trying to stay away from inheriting that huge amount of money and are ending up looking at other talents.
In addition, the fact that Westbrook has been struggling with the Lakers has given a bad impression.
Although he has been known to have the ability to lead a team and help in every department, this has not been seen this season with the Lakers.
Hence, this may get teams wondering if Westbrook can still turn things around and produce the monster numbers or familiar triple-double numbers that he has shown the past years.
As far as the Lakers are concerned, the reality is that they may be stuck with Westbrook beyond the February 10 deadline.
Regardless, LeBron James, Anthony Davis and head coach Frank Vogel are keeping the faith.
Although Westbrook is coming off a bad game in the Lakers' win against the New York Knicks, it is something any player will go through.
But in all, Vogel knows that Westbrook can get it together since he has proven it in the past NBA seasons and knows what it takes to win games, NBA.com reported.
"He's done it throughout his career," Vogel said. "He's played with great players. He knows how to play to win. So, it's not something that's new."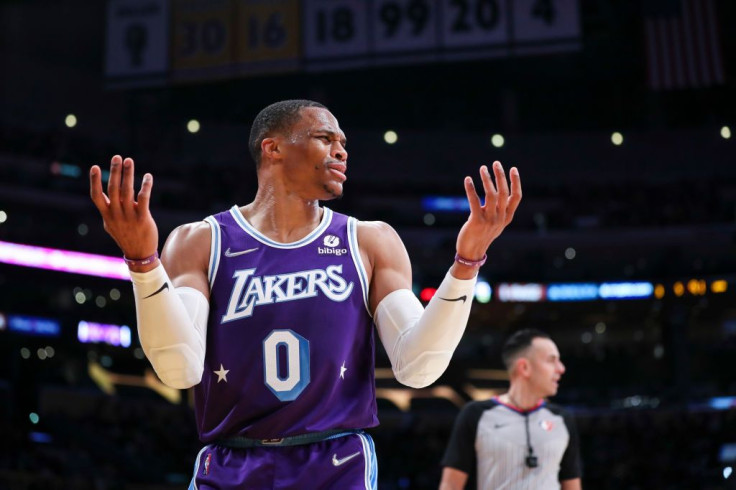 © Copyright IBTimes 2023. All rights reserved.