NBA Trade Rumors: The Latest On James Harden, Ben Simmons, Russell Westbrook
Some of the biggest names in the NBA find themselves at the heart of rumors ahead of the 2022 trade deadline. The idea of Ben Simmons and James Harden being swapped for each other is seeming more realistic.
The Los Angeles Lakers' struggles have sparked speculation that Russell Westbrook might not last a full season in L.A. in another potential deal as Thursday's 3 p.m. EST trade deadline approaches.
A blockbuster trade made by the Philadelphia 76ers or Brooklyn Nets could determine this year's championship. The Lakers are quickly falling out of contention and might not even make the playoffs without shaking up their roster.
Which of the aforementioned superstars has the best chance of being traded?
Westbrook is the most likely to stay put, given his contract and production. Teams are not racing to trade for Westbrook and his $47 million player option for next season. Westbrook is averaging 10.3 points on 27.5% shooting in four games this month, prompting Lakers head coach Frank Vogel to bench Westbrook in the fourth quarter of Tuesday's 131-116 loss against the Milwaukee Bucks.
"I shouldn't have to hit any benchmark, to be honest," Westbrook told reporters when asked what he should do to be able to play in crunch time. "I've put a lot of work and I've got a lot of respect in this game. I don't got to hit a benchmark, or I shouldn't have to. I've earned a right to be in closing lineups."
Players on the Lakers believe the team has to make a move at the trade deadline, according to ESPN. Trading Westbrook for a package that will significantly improve Los Angeles' title chances, however, seems highly unlikely.
Philadelphia can trade Simmons and give itself a better shot to win the NBA Finals. Any return for the three-time All-Star would be an improvement since he hasn't played all season.
The 76ers are three games ahead of the Nets in the standings. The NBA favorites all season long, Brooklyn is seriously thinking about trading a member of its "Big 3," according to reports.
Philadelphia and Brooklyn have had trade discussions about Simmons and Harden this week, according to Keith Pompey of the Philadelphia Inquirer. 76ers President of Basketball Operations Daryl Morey believes that Harden won't re-sign with the Nets this summer, according to The Athletic's Sam Amick.
On the "Brian Windhorst & The Hoop Collective" podcast, Windhorst said he believes that Harden "eventually, probably" will end up with the 76ers.
The question is whether Harden gets traded to the 76ers by Thursday or he forces his way to Philadelphia (or another team) as a free agent this summer.
The 76ers and Nets can't seem to agree on who else would be included in a Simmons-for-Harden swap. Philadelphia would have to send Brooklyn at least one more player. Danny Green, Matisse Thybulle, Seth Curry and Tyrese Maxey are potential options.
Philadelphia nearly traded Simmons for Harden when the Houston Rockets were shopping the 2018 NBA MVP. It's a very real possibility that the deal could happen 13 months later.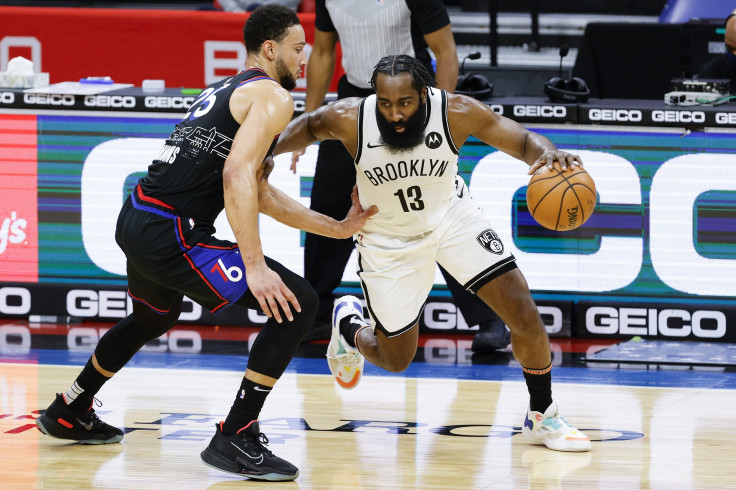 © Copyright IBTimes 2023. All rights reserved.