NBA Trade Rumors: Why Lakers' Kobe Bryant For Cavs' LeBron James Swap Never Could Have Happened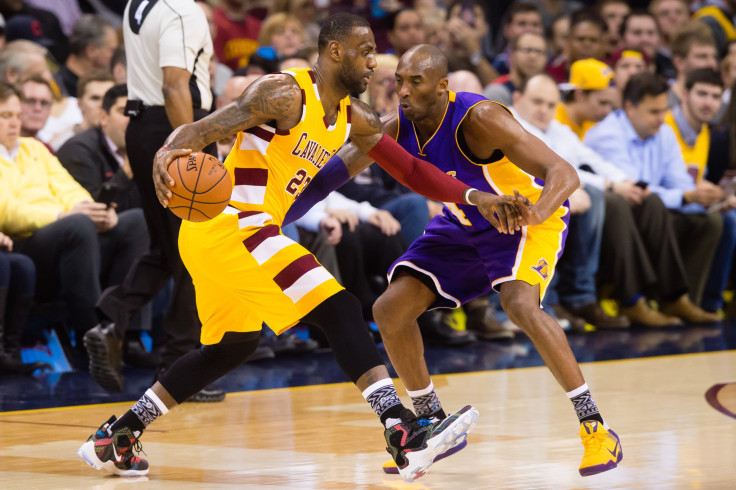 Kobe Bryant visited the Cleveland Cavaliers on Wednesday night for the last time in his career, scoring 17 points in a 120-111 loss. Shortly before the Los Angeles Lakers star took on LeBron James in one of their final matchups, a report claimed that L.A. once proposed a blockbuster swap of the two future Hall of Famers.
Sources told ESPN's Brian Windhorst that the Lakers spoke to the Cavs in the summer of 2007 about potentially sending Bryant to Cleveland in exchange for James. Bryant was asking for a trade at the time, having been knocked out of the first round of the playoffs in two straight seasons and being three years removed from his last trip to the NBA Finals.
"At that time, the Lakers had to do something. I was just losing faith in what they were trying to do. It was like I was a meal ticket," Bryant told ESPN's Baxter Holmes this week. "You come out and score 40, 50 points, fill the seats, we're going to keep the payroll at a minimum, generate revenue. It's like, look, listen, I am not with that, dude. I have to win without Shaq. I've got to do it. We've got to do something."
A potential deal involving Bryant and James is certainly a fascinating notion. Bryant was in the prime of his career, coming off a season in which he averaged 31.6 points per game and carried the Lakers to the playoffs. James was 22 years old and already an established superstar, having just made his first NBA Finals appearance.
It makes sense that the Lakers would ask for James with Bryant looking to get out of Los Angeles. Bryant was arguably the NBA's best player, and he would go on to be named the league's MVP in the next season. Acquiring James was one of the few ways that L.A. could deal Bryant and still get equal value in return. But while it might have been the best deal the Lakers could have made, it was never a realistic one.
For the Cavaliers, trading James to the Lakers made very little sense. James, an Ohio native, was six years younger than Bryant and living up to expectations as the league's next transcendent star. James averaged 27.3 points, 6.7 rebounds and 6.0 assists in the 2006-2007 season, and he was still getting better. He was untouchable in terms of trades, and no team could have realistically put together a package that Cleveland would have accepted.
Even if for some reason the Cavs decided that they wanted to do the deal, the trade still never would have gone through. Bryant had a no-trade clause in his contract, and he was not leaving Los Angeles to go to Cleveland.
"I never would've approved it. Never. The trade to go to Cleveland? Never," Bryant told Holmes. "That wasn't one of the teams that was on my list. It was Chicago, San Antonio [or] Phoenix."
After winning three titles with Shaquille O'Neal, Bryant wanted to win a championship as the team's best player. He needed some help, and having Smush Parker as one of the Lakers' top scorers wasn't going to cut it. But James' supporting cast in Cleveland wasn't much better, as the team relied on Larry Hughes to be its No.2 scorer.
Bryant had been angling to be traded to Chicago, and the two big-market teams had talks about a possible multi-player deal. The Lakers and Bulls were reportedly close to making a trade in which L.A. would have acquired Loul Deng, Tyrus Thomas, Ben Gordon and Joakim Noah. But Bryant didn't want to go to Chicago if the team was forced to give up Deng.
Trading a superstar is extremely difficult from both a salary-cap perspective and getting equal or better value in return. The Lakers knew this better than anyone, having sent O'Neal to the Miami Heat just three years earlier in exchange for Caron Butler, Brian Grant and Lamar Odom. After winning three straight titles from 2000-2002 and reaching the NBA Finals in four out of five years, the Lakes were mired in mediocrity for three seasons because they dealt the NBA's most dominant big man and were saddled with bad contracts.
Like the Lakers with the O'Neal trade, Cleveland would have been burdened by an unneeded hit to their payroll. The Cavs would have taken on Bryant's contract, which paid him $19.4 million in 2007-2008, $21.2 million in 2008-2009, and $23 million in 2009-2010. The Lakers would have been given the more favorable contract of James, who was paid $13 million in 2007-2008, $14.4 million in 2008-2009 and $15.8 million in 2009-2010.
Staying in L.A. worked out for Bryant. Instead of trading their best player, the Lakers added Pau Gasol a few months after contacting the Cavaliers. Los Angeles returned to the NBA Finals that season, and won titles in 2009 and 2010.
Both star players have done well without the swap. James and Bryant have combined to win seven rings, and one of the two has reached every NBA Finals since 2007.
© Copyright IBTimes 2023. All rights reserved.