NBA TV Schedule: The 5 Best Games To Watch In 2021
NBA regular-season games mean even more in the 2020-21 season because of a truncated schedule. Each team now has 72 games to secure a playoff berth, and just six spots in each conference can be clinched without competing in the new playoff tournament.
Because of the uncertainty that comes with playing during a pandemic, only the schedule for the first half of the season has been released. While there will be plenty of chances to see the top superstars play, some contests stand out more than others.
Here's a look at the five best NBA games that are scheduled for national TV in 2021.
Monday, Jan. 11: New Orleans Pelicans at Dallas Mavericks (8:30 p.m. EST, NBA TV)
Both Luka Doncic and Zion Williamson are "must-see TV," so basketball fans will want to tune in when they are on the same court. Doncic has all the tools to become the next face of the league. If Williamson can stay healthy, he'll be among the NBA's most dominant scorers at just 20 years old.
Thursday, Jan. 14: Miami Heat at Philadelphia 76ers (7:30 p.m. EST, TNT)
Considering Milwaukee's postseason struggles and Brooklyn's injury concerns, Miami and Philadelphia might very well end up meeting in the Eastern Conference Finals. The Heat are clear contenders after reaching the 2020 NBA Finals. Philadelphia has enough talent to make a deep playoff run.
Thursday, Jan. 21: Los Angeles Lakers at Milwaukee Bucks (7:30 p.m. EST, TNT)
LeBron James might coast for much of the first half, but you can be sure he'll bring his best when playing opposite Giannis Antetokounmpo. James was out to prove he's still the league's top player the last time he faced the reigning MVP. Los Angeles and Milwaukee were the NBA's top seeds a season ago, and this could be an NBA Finals preview.
Thursday, Feb. 18: Brooklyn Nets at Los Angeles Lakers (10 p.m. EST, TNT)
Barring injury, this will be the first time since Christmas 2018 that James and Kevin Durant go head-to-head. They were the two greatest players of the last decade, and despite James' age and Durant's torn ACL, they are still the two top players in the league.
Tuesday, March 2: Los Angeles Clippers at Boston Celtics (7:30 p.m. EST, TNT)
Boston beat Los Angeles 141-133 in double overtime last year in what was probably the best game of the season. The Celtics should finally have Kemba Walker back in March after he missed the start of the season with a knee injury. The Clippers remain the biggest threat to the Lakers in the West.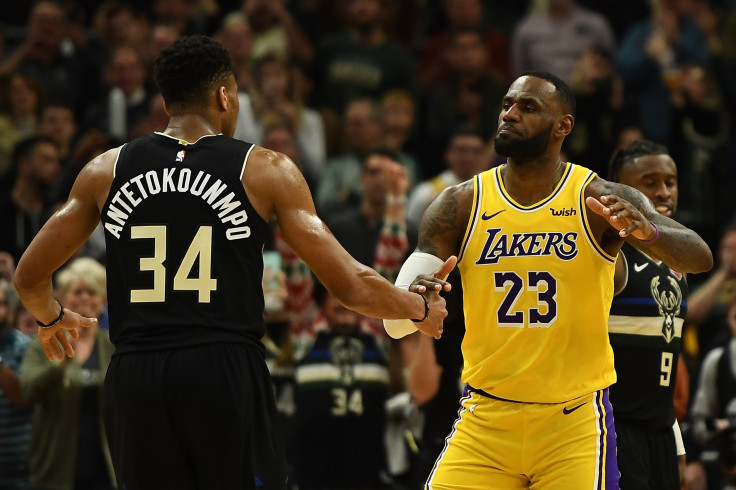 © Copyright IBTimes 2023. All rights reserved.