Neil Gorsuch Vote: Latest List Of Senators Opposing Trump's Supreme Court Nominee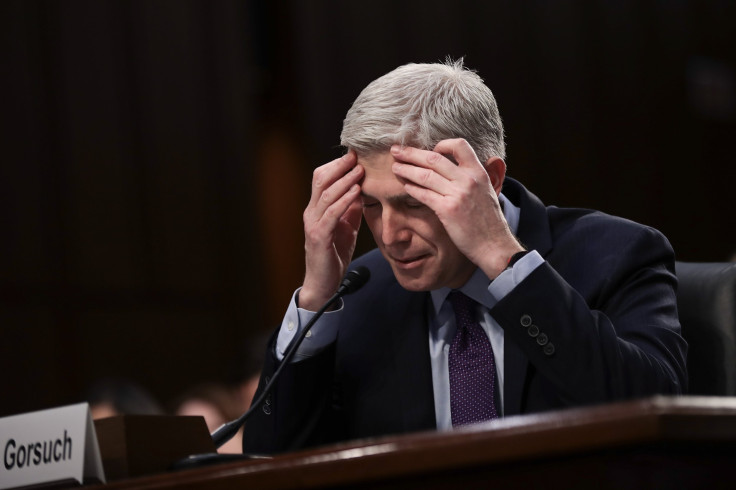 President Donald Trump's Supreme Court nominee, Neil Gorsuch, finished his confirmation hearings last week. His next task? Actually emerging victorious from an April 7 confirmation vote.
Though many Republicans support the judge, their hopes to surpass the 60-vote threshhold that could end a planned Democratic filibuster against Gorsuch could be in danger, the Washington Post reported. They also have a so-called "nuclear option" that would only require majority support to usher in the replacement for late Supreme Court Justice Antonin Scalia.
Read: Who Is Neil Gorsuch's Wife? Meet Marie Louise, The Supreme Court Nominee's Longtime Partner
Here's the latest list of lawmakers voting against Gorsuch and explaining why they don't support him:
Sen. Tammy Baldwin, D-Wisc. — "I think the American people deserve an independent Supreme Court Justice who is going to protect constitutional rights," Baldwin told the Milwaukee Journal Sentinel in February. "President Trump and his nominee need to earn 60 votes in the Senate. I will not be one of them."
Sen. Cory Booker, D-N.J. — "I will not vote for Judge Gorsuch. I will oppose his nomination," he tweeted Feb. 1.
Sen. Sherrod Brown, D-Ohio — "The people of Ohio deserve Supreme Court Justices who will defend the rights of working families over Wall Street and corporate special interests – and Judge Gorsuch's record doesn't pass that test," he said in a Jan. 31 statement. "I cannot support any nominee who does not recognize that corporations are not people."
Sen. Tom Carper, D-Del. — "[My] hope is that at some point later on this year we can consider both of them ... but to move forward on Judge Gorsuch, I would just kind of ignore what happened for the last year with Merrick Garland, I think would be wrong," he told Delaware Public Radio on Friday, according to CNN.
Sen. Bob Casey, D-Pa. — "We cannot demand perfection from Supreme Court justices. But we can demand a constant commitment to fairness, to protecting all Americans regardless of power or wealth, to that guiding creed: equal justice under law," he wrote in a Thursday statement. "I have concluded that Judge Gorsuch is not the right choice to fulfill this commitment."
Sen. Dick Durbin, D-Ill. — "Judge Gorsuch needed to demonstrate that he would uphold and defend the Constitution for ALL of us, not just the privileged few ... Judge Gorsuch was given a full and fair hearing. He was given every opportunity to explain his judicial record and his views," he wrote on Twitter Tuesday. "I came away from his hearing firmly convinced that I must oppose the nomination of Judge Gorsuch."
Sen. Al Franken, D-Minn. — "I'm going to vote against him. I fear that he's going to be part of another 5-4 Roberts court that rules for corporations," he told WCCO Sunday.
Sen. Kamala Harris, D-Calif. — "Judge Gorsuch's record shows he puts corporations ahead of the American people. Gorsuch imposed religious views on employees and has shown outright hostility toward workers," she tweeted Monday. "Judge Gorsuch has a history of rulings that directly hurt middle class families, consumers, women and more. I oppose his nomination."
Sen. Maggie Hassan, D-N.H. —"While Judge Gorsuch is by all accounts a man of great integrity in his personal life, his record demonstrates that he has too often shown a disregard for the impact that his decisions have on the lives of real Americans, consistently putting big corporations before the rights and liberties of hard-working people and families," she wrote in a Medium post on March 28.
Sen. Martin Heinrich, D-N.M. — "There is a darkening cloud over the Trump Administration due to its possible ties to Russia's hacking and interference in our presidential election," he wrote in a statement Wednesday. "Given the multiple congressional and criminal investigations that are tainting this Administration, it would not be responsible to move forward with President Trump's Supreme Court nominee until these Russia-related allegations are resolved. We simply cannot process a lifetime appointment to the highest court in the land under these circumstances, especially since the court may be called upon to resolve matters related to these investigations."
Sen. Mazi Hirono, D-Hawaii — "We need a #SCOTUS Justice who will represent all Americans, not just the wealthy [and] corporate interests. I will oppose Neil Gorsuch," she wrote on Twitter Monday.
Sen. Tim Kaine, D-Va. — "Judge Gorsuch unquestionably has an impressive professional and educational background, but a nominee to the Supreme Court must also demonstrate sound judicial philosophy. Judge Gorsuch's selective activism in restricting women's rights and his framing of women making their own health decisions as 'the wrongdoing of others' are jarring and do not demonstrate a philosophy that belongs on the Supreme Court," he wrote in a statement Wednesday. "I will oppose his nomination."
Sen. Amy Klobuchar, D-Minn. — "I'm voting no [because] of his judicial record [and] philosophy on kids [with] disabilities, campaign finance, safety protections," she tweeted Wednesday.
Sen. Ed Markey, D-Mass. — "President Trump repeatedly promised that he would use an ideological litmus test to select a nominee who would advance a far-right agenda from the bench," he wrote in a Jan. 31 statement. "President Trump lived up to his word, and the nomination of Judge Neil M. Gorsuch confirms that President Trump wants a Supreme Court Justice who is outside the judicial mainstream."
Sen. Jeff Merkley, D-Ore. — "It's important to keep recognizing that this is a seat stolen from President Obama, put into a time capsule, and delivered forward to the next president," he told Vox this month. "If this succeeds, it's a precedent that's terribly destructive."
Sen. Chris Murphy, D-Conn. — "I am deeply concerned about the politicization of the court, and its recent capture by corporate and special interests," he said in a statement to the CT Mirror. "I am convinced Judge Gorsuch would exacerbate that slide, and continue the activist bent of the existing court. For that reason, I cannot support him."
Sen. Patty Murray, D-Wash. — "I will be voting against the nomination of Judge Neil Gorsuch, and I will oppose a cloture motion ending debate," she tweeted Friday.
Sen. Gary Peters, D-Mich. — "Serving on the U.S. Supreme Court requires more than education and experience, and I am extremely concerned that Judge Gorsuch's judicial approach is out of step with mainstream American values," he wrote in a statement Tuesday. "After careful consideration of Judge Gorsuch's comments and his record, I cannot support his nomination to serve on our nation's highest court."
Sen. Jack Reed, D-R.I. — "It is clear that Judge Gorsuch has a not-so-hidden agenda. His record as a judge shows he repeatedly used concurring and dissenting opinions to go well beyond the facts of a case to make broad, ideological statements," he wrote in a statement Friday. "If Judge Gorsuch is confirmed to the Supreme Court, I worry he would try to circumscribe voting rights and consumer protections and impose new constraints on civil liberties and women's health care and roll back clean air laws."
Sen. Bernie Sanders, I-Vt. — "Americans deserve a Supreme Court justice who respects the rights of workers instead of bowing to big business. I will oppose Judge Gorsuch," he tweeted Thursday.
Sen. Chuck Schumer, D-N.Y. — "After careful deliberation, I have concluded that I cannot support Judge Neil Gorsuch's nomination to the Supreme Court ... he will have to earn 60 votes for confirmation. My vote will be 'no,' and I urge my colleagues to do the same," he said earlier this month on the floor, according to CNBC.
Sen. Jeanne Shaheen, D-N.H. — "I cannot support a Supreme Court justice who would turn back the clock on women's reproductive rights," she wrote in a statement Tuesday.
Sen. Debbie Stabenow, D-Mich. — "It is essential that the next Supreme Court Justice not only be qualified in the law but also balanced and impartial in his views," she wrote in a statement Tuesday. "After reviewing Judge Gorsuch's rulings, it is clear that he has a long record of siding with special interests and institutions instead of hard-working Americans. And, therefore, in my judgment, he does not meet this standard of balance and impartiality."
Sen. Tom Udall, D-N.M. — "I have met with Judge Gorsuch, followed the hearings in the Senate Judiciary Committee, and studied his record, and decided that I can't support his confirmation," he told the Albuquerque Journal last week.
Sen. Elizabeth Warren, D-Mass. — "Every day, our new president finds more ways to demonstrate his hostility for our independent judiciary, our civil society, and the rule of law. Now more than ever, America needs Supreme Court justices with a proven record of standing up for the rights of all Americans — civil rights, women's rights, LGBT rights and all other protections guaranteed by our laws," she wrote on Facebook Jan. 31. "We don't need another justice who spends his time looking out for those with money and influence."
Sen. Sheldon Whitehouse, D-R.I. — "Judge Gorsuch needed to convince me he would not join the posse that has relentlessly stretched the law to benefit Republican partisans and corporations at the expense of everyone else," he wrote in a Friday statement. "He did not. He will not get my vote."
Sen. Ron Wyden, D-Ore. — "#Gorsuch is a practitioner of secret law [and] favors corporations [and] the government over individual rights. Unacceptable for SCOTUS nominee," he tweeted Thursday.
Sen. Chris Van Hollen, D-Md. — "After carefully evaluating Neil Gorsuch's record and his testimony before the Judiciary Committee, I have concluded that he applies a cramped reading of the law and consistently sides with powerful special interests against the rights of individuals, workers, and consumers. When he had an opportunity during the hearings to clarify that bias, he chose instead to evade questions and answered with platitudes, not substance," he wrote on Medium Tuesday. "While he is undoubtedly a skilled lawyer, his bias in favor of corporate power, coupled with his refusal to answer reasonable questions, lead me to conclude that he falls outside the judicial mainstream."
© Copyright IBTimes 2023. All rights reserved.