Nelson Mandela Archive: Google Publishes Personal Documents Of Living Legend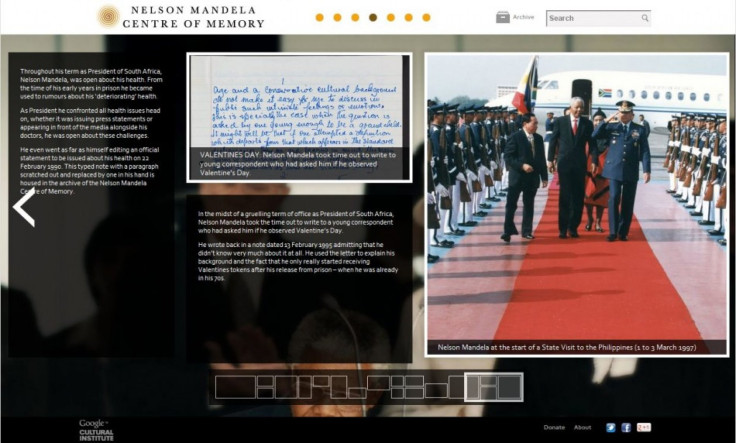 More than 1,900 documents including photographs, hand-written letters, and films of Nelson Mandela have been uploaded to the Neslon Mandela Centre of Memory archive. (Photo: Nelson Mandela Centre of Memory)
Nelson Mandela, once a prisoner of South Africa's apartheid-era government and eventual South African president, has lived a tumultuous life of world-historical import. Now, thanks to a recent effort from Google and the Nelson Mandela Centre of Memory, the South African legend's personal dealings have become much more accessible to anyone with an Internet connection.
The Nelson Mandela Centre of Memory and Google have published more than 1,900 documents including photographs, hand-written letters, films and more about South Africa's first black president and legendary humanitarian figure. The archive gives people around the world an unprecedented look at the personal life of this political legend.
My darlings, begins a hand-written letter from Mandela to his daughters after his then-wife Winnie, their mother, had been detained by authorities. Once again our beloved Mummy has been arrested and now she and Daddy are away in jail my heart bleeds as I think of her sitting in some police cell far away from home, perhaps alone and without anybody to talk to, and with nothing to read. Twenty four hours of the day longing for her little ones.
This hand-written letter gives insight into what life was like as a prisoner for Nelson Mandela. (Photo: Nelson Mandela Centre of Memory)
The personal letter, hand-written on June 6, 1969, during a period when Mandela was imprisoned by the white apartheid government, is a tragic reminder of the hardships that Mandela faced and the fortitude his behavior exemplified throughout his life.
It may be many months or even years before you see her again, he wrote to his daughters. For long you may live like orphans without your own home and parents, without the natural love, affection and protection Mummy used to give you. Now you will get no birthday or Christmas parties, no presents or new dresses, no shoes or toys.
The personal anguish that's captured in this letter is striking after skimming through more of the documents. There are dozens of notes, memos and letters written by Mandela during his lowest points -- as a prisoner with relatively no power -- and at his highest points -- as the leader of South Africa -- with more power than he'd ever imagined. To help readers navigate his life, the archive is broken into seven sections: Legend, Early Years, Prison Years, Presidential Years, Retirement, Books For Mandela and Young People. Each deals with a different period of growth.
The Presidential Years section of the archive gives insight into the type of pressure that Mandela faced as he reorganized South Africa into a less segregated, more egalitarian country. Handwritten notes in his daily planner and early drafts of his autobiography give a glimpse into the mind of Mandela as he tried to balance the pressures of being a leader with his own moral leanings.
In one passage taken from an early draft of his autobiography, Mandela writes about his intent to serve only one term as president. Scholars have long pointed to such moments as the differentiation between Mandela and other leaders in Africa during the period. I ... made it clear that I would serve for one term only, wrote Mandela. Although my statement seemed to have caught them unawares, they replied that I should leave the matter to the organization. I did not want any uncertainty o this question. Shortly after I had become president, I publicly announced that I would serve one term only and would not seek re-election.
The passage goes on to explain the difficulties that Mandela faced while trying to balance the needs of the people of South Africa. He makes his humanitarian leanings very clear as he shuns some leaders and cooperates with others: During my political career, I have discovered that in all communities, African, Coloured, Indian and Whites, and in all political organizations without exception, there are good men and women who fervently wish to go on with their lives, who yearn for peace and stability, who want a decent income, good houses, who respect and want to maintain the social fabric of society, to send their children to the best schools in their country.
In the section Legend, which features Mandela's life after his presidency, he is shown meeting with people from around the world. While there are dozens of photos with Mandela sitting beside dignitaries and celebrities, the Centre of Memory says that the leader was never comfortable thinking of himself as a celebrity. He worked hard to make himself accessible to ordinary people, which is clear throughout the photos of him beside citizens of the world. Mandela always stressed to the people he met that they should never regard themselves too highly above others.
A video featured in the archive documents the feelings that people felt while meeting Mandela. Several people who are photographed with him have been tracked down and interviewed for a follow-up on their experience. Elation, excitement, and overall jubilation best summarize what people have felt when in the presence of Mandela. For most that have shaken his hand, the meeting was the experience of a lifetime.
The launch of the digital archive comes in the wake of health complications that Mandela experienced. In the last month, he was admitted to a hospital for a minor diagnostic surgery in order to determine the cause of an abdominal complaint. He was last seen publicly in July 2010. Nonetheless, the Guardian reports that the Centre of Memory said the information has been published with Mandela's approval.
© Copyright IBTimes 2023. All rights reserved.