Nelson Mandela Centenary: Obama Rebukes Trump, 'Strongman Politics' During Lecture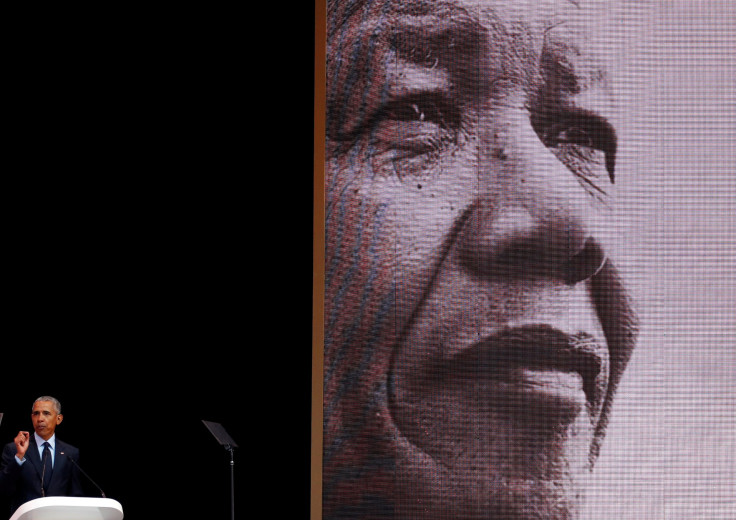 Former President Barack Obama, in his first high-profile speech since stepping down as U.S. president, at the annual Nelson Mandela Lecture in South Africa, talked about "strongman politics" and politicians' disregard for facts.
The theme for the lecture this year was "Renewing the Mandela Legacy and Promoting Active Citizenship in a Changing World."
His remarks were seen as an almost upfront criticism of the use "alternative facts."
"This is one of those things I never thought I would have to say: you have to believe in facts," Obama said, adding there was no basis for co-operation without facts. "If I say this is a podium and you say this is an elephant, it is going to be hard for us to co-operate."
Obama said he could find common ground with those who debate the Paris Accords based on provable facts, but, "I can't find common ground if someone says climate change is not happening when almost all the world's scientists say it is. If you start saying it is an elaborate hoax, where do we start?"
President Donald Trump thinks climate change is not real according to an article by the BBC. He wants to pull the U.S. out of the Paris Accord as well. On multiple occasions Trump has also denied that he had said climate change is a hoax.
"It used to be if you caught them [politicians] lying, they said: 'Oh man.' Now they just keep on lying," Obama said.
In the lecture at the Wanderers Stadium in Johannesburg, the former president addressed the family separation as part of the "Zero Tolerance" policy that is in force at the U.S.—Mexico border.
"It's legitimate to say borders matter and should be enforced. But that can't be an excuse for immigration policies based on race. We can enforce the law while respecting basic humanity. … When we see a mother with her baby, we must think of our own families," he said.
He added it was a "plain fact" that racial discrimination was still rampant in the U.S. and South Africa.
Obama said the world's business titans, the "elite," were far detached from the lives of the poor. "A few dozen individuals control the same amount of wealth as the poorest half of the world. That's not an exaggeration, it's a statistic!"
He said progressives have to work harder to achieve shared economic prosperity as when economic power is concentrated in the hands of a few, the same will happen with political power as well. "Madiba understood this. He warned us about this," Obama said. "If we are serious about universal freedom today….then we have a responsibility to do something about it."
On democracy, the former president said: "Democracy is messy, but the efficiency of an autocrat is a false promise." He warned the audience of politicians who use "politics of fear, resentment, retrenchment," that were on a rise "at a pace unimaginable just a few years ago."
He warned against "strongman politics" and made a case for liberal democracy as a better alternative for humanity. He added it was time to give attention to the world's grassroots instead of capitals as that was where democracy starts.
"Populists undermine every kind of institution and use barely-hidden racism. The free press is under attack…social media…has proved to be just as effective promoting hatred," the former president said. "Authoritarian governments have been shown time and time again to breed corruption, repress their people….and engage in bigger and bigger lies."
"I believe in Nelson Mandela's vision … I believe that a world governed by such principals is possible," Obama said. "Things may go backwards for a while, but — ultimately — right makes might … Not the other way around."
The lecture held as part of the centenary celebration of Nelson Mandela's birthday, had South African President Cyril Ramaphosa, Mandela's wife and politician Graça Machel and one of South Africa's wealthiest businessmen, Patrice Motsepe along with Obama on the stage. The lecture had over 15,000 people in attendance.
© Copyright IBTimes 2023. All rights reserved.