Nepal Constitution Protest: Homes Torched As Protesters Clash With Police Amid National Unrest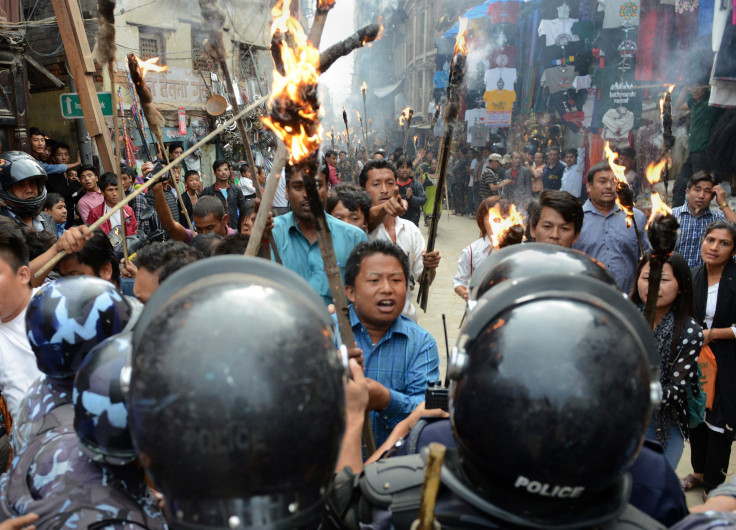 Clashes with police continued in western Nepal Tuesday as demonstrators torched homes and chanted slogans against a recently-proposed constitution that would divide the country into provinces. The violence comes just one day after an 18-month-old boy and seven police officers were killed by angry demonstrators.
The hundreds of protesters Tuesday were in defiance of a curfew in the town of Tikapur, some 260 miles west of the country's capital Kathmandu, imposed in the aftermath of violence a day earlier, Agence France-Presse reported. Police said they were able to gain control of the situation and put out fires started by the demonstrators.
Police said they were caught off guard by Monday's violence, ultimately leading to the deaths of seven security officers as protesters attacked them with spears, axes and knives. The 18-month-old son of a paramilitary officer was also killed when protesters attacked his home in Tikapur.
"The shooters targeted me ... my son was innocent. Why was he killed?" his father, Netra Bahadur Saud, told AFP.
At least three demonstrators were killed earlier this month by police. Police said no demonstrators were killed Monday or Tuesday.
The proposed constitution was drafted several months after a devastating earthquake in April and calls for six new provinces to be carved out of the country. Protesters have drawn mostly from Nepal's federation of indigenous nationalities, which has called for a strike against the country's newly proposed provinces.
Opponents of the reforms say the new borders would fail to ensure political representation for marginalized communities. The constitution proposal was amended earlier this month to create a seventh province to appease concerns, but the revisions failed to meet protester demands.
The draft constitution was tabled Sunday as opposition members chanted slogans of protest against it. Critics have argued new provinces should be carved around historically marginalized communities, but other lawmakers have said that would disturb national unity.
Human Rights Watch, a New York based rights organization, called on Nepalese officials to investigate all protest-related deaths and pitted blame on the government for failing to address the concerns of local communities. The organization also called on protesters to refrain from further violence.
© Copyright IBTimes 2022. All rights reserved.
FOLLOW MORE IBT NEWS ON THE BELOW CHANNELS