New Airstrike Aimed At Libyan City Misrata Amid Clashes Close To Oil Port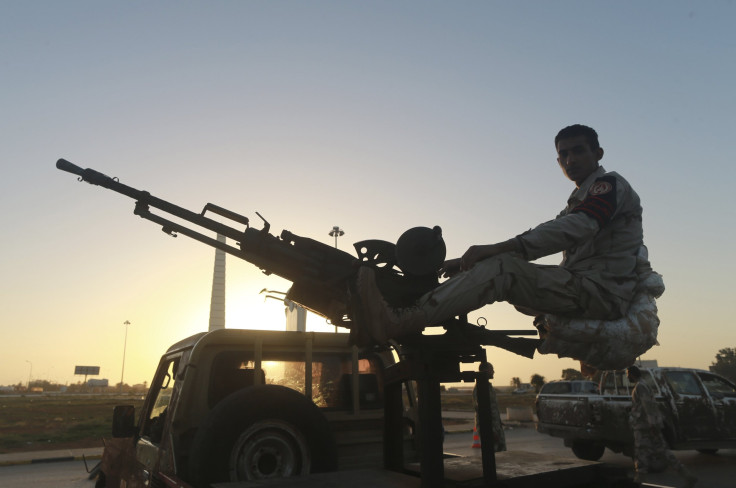 (Reuters) -- Forces loyal to Libya's internationally recognized government staged airstrikes Saturday on the commercial port of Misrata, a western city allied to a group that holds the capital Tripoli, both sides said. Fighting was also reported near the country's biggest oil export port located in the east, part of a struggle between troops loyal to two competing governments and parliaments.
The internationally recognized prime minister, Abdullah al-Thinni, has been forced to run a rump state in the east since a group known as Libya Dawn linked to Misrata took control of Tripoli last August and set up a rival government.
Saqer al-Joroushi, commander of an air force unit loyal to Thinni, said warplanes hit Misrata port and an air force academy located in the western city.
A state news agency loyal to the rival Tripoli government confirmed the airstrikes, saying two people had been wounded when several rockets hit a port building.
Misrata, 125 miles east of Tripoli, has a major seaport and free-trade zone. The city had so far mostly escaped the fighting that has threatened to break up Libya.
Separately, troops loyal to Thinni said they had attacked a rival force that three weeks ago tried to seize the Es Sider oil port, the country's biggest. Thinni's troops moved on fighters who have been holding positions in Ben Jawad, about 25 miles west of the port, said a representative of Thinni's troops. "There are clashes with heavy weapons," he said, adding that two of his troops had been killed and two others wounded.
Es Sider and the adjacent Ras Lanuf oil ports have been closed since the clashes started, depriving Libya of an estimated 300,000 barrels of day of crude production.
Since Moammar Gadhafi was ousted as its leader in 2011, Libya has failed to attain stability. Former rebel brigades that once fought side by side have now turned on each other, aligning themselves with rival political factions in a scramble for control.
(Reporting by Libya staff and Ulf Laessing in Cairo; Editing by Stephen Powell)
© Copyright Thomson Reuters 2023. All rights reserved.