New England Patriots Playoffs: Who Will The Pats Play Next? Raiders, Dolphins, Texans Among Potential Opponents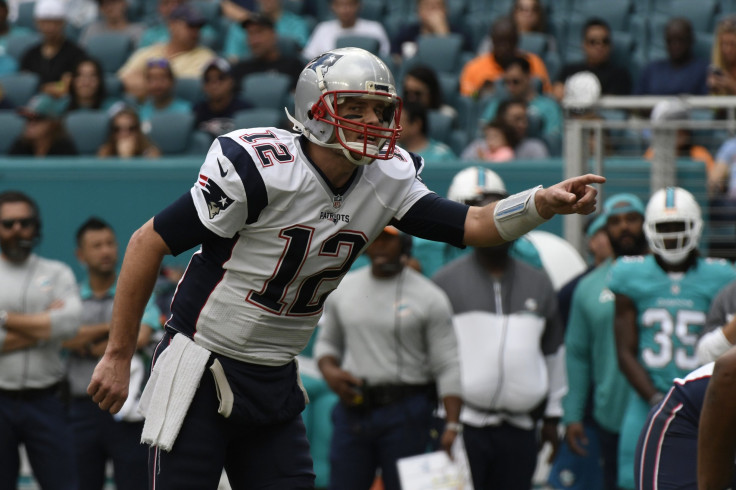 As the No. 1 seed in the AFC, the New England Patriots won't know their first playoff opponent of 2017 until the conclusion of Wild-Card Weekend. Three teams can potentially face Tom Brady and Co. when the Patriots return from their bye and play in next week's divisional round.
New England will take on the lowest remaining seed in the conference. That will be determined by the early games this weekend. Saturday's action begins with a contest between the Houston Texans and Oakland Raiders. The first postseason game Sunday features the Miami Dolphins and Pittsburgh Steelers.
The Steelers have no chance to face the Patriots in the second round. If they defeat the Dolphins, they'll visit the Kansas City Chiefs next week. Kansas City has a bye on Wild-Card Weekend as the AFC's No. 2 seed.
Only the Dolphins, Texans and Raiders are eligible to face the Patriots. If Miami upsets Pittsburgh, they will visit New England. If the Dolphins lose, it'll be the winner of Houston vs. Oakland that travels to Gillette Stadium for the divisional round.
The most likely result seems to be a matchup between the Patriots and Texans. Pittsburgh is a heavy favorite over Miami, and Houston is a slight favorite over Oakland. The Raiders nearly clinched the No. 2 seed in the conference, but they lost in Week 17 without the injured Derek Carr and it will be difficult for them to advance with Connor Cook at quarterback.
New England hasn't faced Oakland this season, though they've gone 3-0 against their other potential opponents. With third-string quarterback Jacoby Brissett starting in Week 3, the Patriots shut out the visiting Texans 27-0. New England beat Miami by a touchdown without Brady in Week 2, and the four-time Super Bowl winner led the Patriots to a 35-14 victory in Miami in the season finale.
Whoever visits the Patriots in the second round will likely be a double-digit underdog. New England has the NFL's best record at 14-2, including 11 wins in 12 games with Brady under center.
Because of injuries, the Dolphins, Raiders and Texans will likely have the three worst starting quarterbacks in this year's playoffs.
© Copyright IBTimes 2023. All rights reserved.