New Hampshire Primary Results: Live from Ron Paul 2012 Headquarters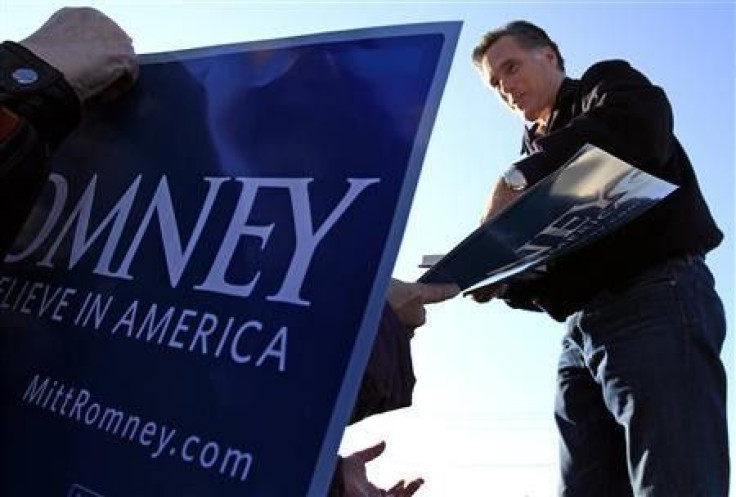 MANCHESTER, N.H. -- As the polls close in New Hampshire, Ron Paul's staffers and supporters have gathered in the Executive Court banquet hall in Manchester to watch the results come in.
The International Business Times will be live-blogging throughout the evening, so check back for exclusive interviews, photos and, of course, the election results.
7:22 p.m.: The doors will open to the public in eight minutes, Paul staffers say. Right now it's just said staffers and dozens of reporters and photographers milling around. And also two school-age girls from Massachusetts who are interviewing reporters about reporting on the campaign trail.
We don't have much information yet on what the Paul campaign has planned for tonight. They won't talk about returns until the last polls close at 8 p.m., and Paul himself will get here at some unspecified time, depending on what the results look like.
8:36 p.m.: So Ron Paul has a song now. Lyrics include, Ron Paul, start a revolution! and Ron Paul, civil constitutional rights!
8:37 p.m.: Song ends, and a woman screams from the back of the rooom, CAN WE HEAR THAT AGAIN?
8:46 p.m.: Paul volunteer: Government can never create a job. It's impossible.
8:47 p.m.: He says government can only create temporary work, not real jobs, and that's like putting a band-aid on an amputee.
8:48 p.m.: ...why are they playing the Star Wars theme song?
8:54 p.m.: Paul about to walk on stage. Crowd getting very, very rowdy.
8:57 p.m.: Let's hear it for liberty! -Sen. Jim Forsythe of NH, introducing Ron Paul.
8:58 p.m.: Crowd boos at mention of Patriot Act and Libya intervention. And now a deafening chant of END THE FED! END THE FED!
8:59 p.m.: incredibly strong second place finish in New Hampshire on romney's home turf. huge applause.
9:00 p.m.: Ron Paul has established himself as THE alternative to Mitt Romney, THE alternative to the status quo.
9:04 p.m.: The mainstream media is telling the truth about one thing, Paul says: WE ARE DANGEROUS!
9:07 p.m.: Chant is now bring them home!
9:09 p.m.: If you cut the military industrial complex, you cut into war profiteering, but you don't take a penny out of national defense!
9:11 p.m.: Role of government should be nothing more or less than THE PROTECTION OF LIBERTY!
9:13 p.m.: Freedom is popular, don't you know that?
9:16 p.m.: If you are a true humanitarian, you have to support the free market, not welfare, Paul said.
9:23 p.m.: Paul's speech is over, as is the night, for the most part.

© Copyright IBTimes 2023. All rights reserved.