New Iraq War Death Toll Estimate: 461,000 Dead From Violence And Infrastructure Collapse Since Conflict Began, Researchers Say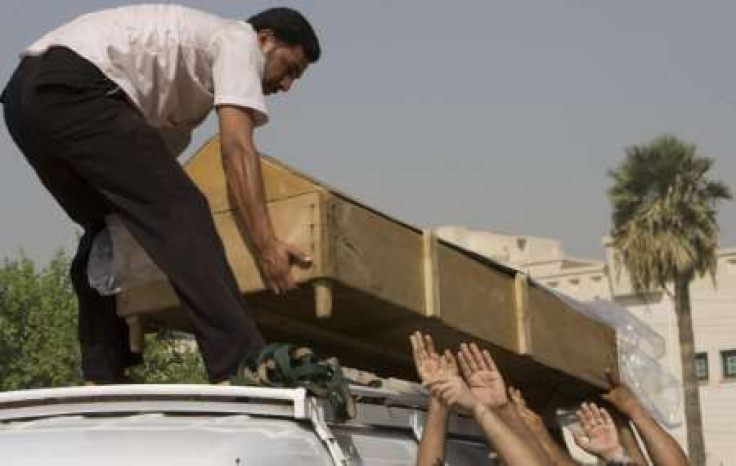 Nearly 500,000 people died in Iraq amidst the violence and confusion of the U.S.-led war and occupation between 2003 and 2011, researchers estimate in a new study.
University of Washington scientists, in collaboration with researchers from Simon Fraser University in Canada, Johns Hopkins University in Baltimore and Mustansiriya University in Baghdad, published the new death toll estimates on Tuesday in the journal PLoS Medicine. It's the first major population-based survey of Iraqi casualties conducted since 2006.
With 95 percent certainty, the team estimates that about 461,000 people died from both war-related violence and the collapse of infrastructure – thus creating a lack of access to clean water, reliable electricity and health care. However, the actual figure could be as low as 48,000 deaths or as high as 751,000 deaths.
"The deaths of citizens swept up in the conflict are seldom commemorated, and yet memorializing and reconciling these casualties has been found to be important for creating a peaceful post-conflict society," the authors wrote. "Those who attempted to predict the mortality consequences of an impending invasion of Iraq in 2002 under-projected the death count, because methods for this type of assessment remain too crude."
The researchers gathered their numbers by going to 2,000 random households throughout Iraq, located in in 100 geographic clusters, in May through July of 2011. They interviewed families about all births and deaths in their households since 2001, and asked all adults in the family about any deaths amongst their siblings. They also used some secondary sources to estimate how many emigrants from Iraq died.
Nineteen percent of deaths within surveyed Iraqi families were blamed on war-related violence. Gunshots were far and away the most common (63 percent) cause of violent deaths, followed by car bombs (12 percent) and explosions (9 percent). U.S.-led coalition troops were held responsible for the plurality (35 percent) of war-related violent deaths, followed closely by sectarian militias (32 percent).
"While militia were reportedly responsible for the most adult male deaths in the sibling survey, coalition forces were reportedly responsible for killing the most women," the authors wrote.
Meanwhile, at least 4,474 U.S. servicemembers have died in Iraq, according to the Washington Post.
In an accompanying commentary in PLoS Medicine, World Health Organization official Salman Rawaf said the survey conducted by lead author Amy Hagopian and colleagues was a valuable attempt at overcoming the difficulties posed by calling a roll of the dead in a war-torn area.
"As a scientific community, yes, we want an accurate war tally that can be used as evidence against waging future wars, but people also want to live without fear of becoming a body counted by epidemiologists," Rawaf wrote. "In a region with escalating violence, sadly, this may be a distant dream."
SOURCE: Hagopian et al. "Mortality in Iraq Associated with the 2003-2011 War and Occupation: Findings from a National Cluster Sample Survey by the University Collaborative Iraq Mortality Study." PLoS Medicine published online 15 October 2013.
© Copyright IBTimes 2023. All rights reserved.
FOLLOW MORE IBT NEWS ON THE BELOW CHANNELS