New World War? China Target Of French Ships Joining US, Japan, UK In Pacific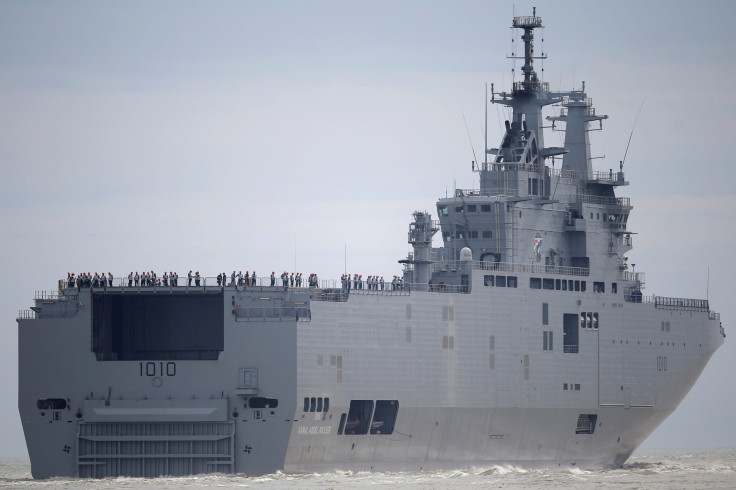 Drawing together much of the West's biggest powers, France reportedly intended to sail carriers and head up drills with the United States, Japan and Great Britain in the western Pacific in May. The expected maneuvers were viewed as a way for France to show China it's military's strength, Reuters reported Friday, citing sources.
In the second and third weeks of May, the French planned to send their Mistral naval carriers, capable of transporting helicopters, around Tinian island, where it will team up with U.S. and Japanese forces as well as two British helicopters. The island is part of the Northern Mariana Islands, a commonwealth of the U.S., located north of Guam.
Read: France Preparing For War?
Though the sources were anonymous, one made it clear that the future military exercise was directed towards China. "Rather than just being a naval exercise, this amphibious exercise will send a clear message to China," the insider told Reuters.
China steadily ratcheted its military presence in the Pacific – where France still has a stake in places like French Polynesia – as well as the South China Sea. The Chinese military announced the building of its second aircraft carrier in 2015 and it's expected to potentially reach full service by 2020, according to The National Interest back in October.
The report stressed France and Britain attempted to create "closer defense ties" with Japan, which planned to send its biggest warship to several Asian nations in and around the South China Sea for a three-month training with the U.S. Navy in May. The drills and trip were reported as Japan's largest mobilization of its naval forces since World War II.
Read: Japan Launches New Spy Satellite To Watch North Korea
The U.K. reportedly sent four jet fighters in October to train with the Japanese Air Self Defense Force.
The South China Sea continued to be a sticky issue between China, the U.S. and Japan. The hotly disputed waterway became a reason for considerable military posturing from each party, especially after China installed man-made islands in the heart of the valuable international trade route.
© Copyright IBTimes 2023. All rights reserved.