New York Empire: Occupy Wall Street Protesters Have Their Day in Court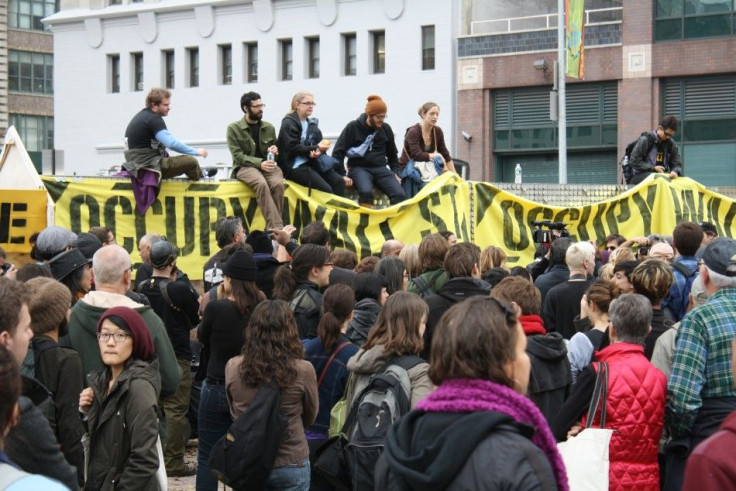 The still air on the fourth floor of an aging courthouse in Lower Manhattan was thick Wednesday morning with the dank morning breath and sweat of dozens of Occupy Wall Street protesters, their lawyers, and the judge who would decide their fates one by one.
The hallway outside the room, where Criminal Court Judge Neil Ross declined to throw out the hundreds of summonses against the accused, was packed with a wide swath of occupiers, many gussied up in their finest duds, but others rocking a more homeless chic style.
In the waiting room, set up for the summoned to find out who would be their free lawyer, many read The Occupied Wall Street Journal and books including The Death and Life of Great American Cities and Jack Kerouac's Dharma Bums.
A National Lawyers Guild rep wearing one of the group's ubiquitous, cheap neon-green hats--identifying her as a legal observer--called out names to the gathered protesters, barking that Meg will be your attorney or you should come this way for Gideon, or one of the other generous lawyers who have offered their services pro bono to help the occupiers avoid punishment.
Every protester with whom who I spoke Wednesday told me they were one of about 700 occupiers who attempted to cross the Brooklyn Bridge Oct. 1 and were arrested by police and issued summonses for their efforts.
Kendrick, a protester in his late twenties or early thirties, who declined to give his last name, was arrested during that infamous Brooklyn Bridge protest and issued summonses for prohibited use of a roadway and disorderly conduct, blocking vehicular traffic.
He traveled six hours from his home in Syracuse to appear at the courthouse, where he echoed the feelings of many of the arrested occupiers while awaited his scant time with Judge Ross.
The police are as much at fault as anyone that day, where are they? he said while waiting to enter the courtroom. They want this to go away, but look at this, it's a freaking zoo. There's a lot of people here. It took a long time to arrest us all.
Each of the arrested protesters, including Kendrick, have to be processed after waiting on a seemingly-interminable line in the cold out front of the courthouse at 346 Broadway, then they are sent to the fourth floor to wait in the hall to be called to enter the waiting room.
In that room, gold-embossed letters spell out the words In God We Trust above the head of a court clerk--who had to be ruing his decision to pursue a career in law as the mind-numbingly similar cases flew by his dais one by one. The motto is fitting, given how many of the occupiers there Wednesday have given up all hope in the system that left their fates in one overweight, red-faced man's hands. God and Judge Ross are all that stand between them and a jail cell, or at least a fine.
After being dispensed with by the clerk, they are sent on to the courtroom, where they wait for the judge to review each one of their cases individually.
That process is over almost as quickly as it begins for the majority of the protesters who choose to take a deal known as an adjournment in contemplation of dismissal, or ACD, which is basically an agreement that their record will be expunged of all mention of the arrest if they are not arrested for the following six months.
The courtroom is nearly identical to the room in which the clerk sits: five rows of fluorescent tube lights hang five feet above the heads of the taller protesters when they stand up from their wooden pews to appear before Ross.
Ok ma'am, both your matters are ACD, thank you very much, have a good life, Ross told a woman who accepted the six-month deal, then moved quickly on to the next one, to whom he uttered a similar determination. Those who did not take the deal were granted an extra thirty seconds of consideration, then assigned a court date in early 2012.
Kendrick, a public school teacher who was laid off in 2010 accepted the ACD despite his reservations about being required to admit having committed the violations outlined on the pink carbon-paper summonses he held in his pocket like badges of honor.
I'm not going to fight it. I can't afford it, so I have to take the ACD. It's just too expensive - it cost me $200 to come down here, he said. I'd love to fight it but what the Hell can you do? I can't afford to come down here, what, six more times? Who knows when this will end?
Martin Stolar, an attorney brought in by the National Lawyers Guild, told Bloomberg Businessweek that about 166 people were scheduled to appear at the court Wednesday, and that 185 more were scheduled to appear over the course of the next week. The NYPD told Bloomberg Businessweek that more than 1,400 people have been arrested in connection with OWS since the protest took off on Sept. 17, though official estimates vary.
Before the individual cases were brought before him, Ross was asked by Stolar to drop the summonses on the grounds that they were fixed, Bloomberg Buisnessweek reported, but Ross declined to do so. The only choices: to admit you did something wrong, or to go back to court over and over again until your case is dismissed.
Amanda Geraci, a 29-year-old Occupy organizer from Philadelphia, decided to fight the two summonses she received on the Brooklyn Bridge during that Oct. 1 protest.
They say that if I don't 'get in trouble' for six months, then 'everything will go away,' and I think both of those ideas are kind of bizarre, she explained after receiving her court date from Ross. I'm not going to have something hanging over my head with a justice system I didn't do anything wrong against. And I don't think anything related to Occupy Wall Street should just 'go away.'
© Copyright IBTimes 2023. All rights reserved.