New York Police Brutality 2015: Use Of Force Policy Revisions Emphasize De-Escalation, Official Announces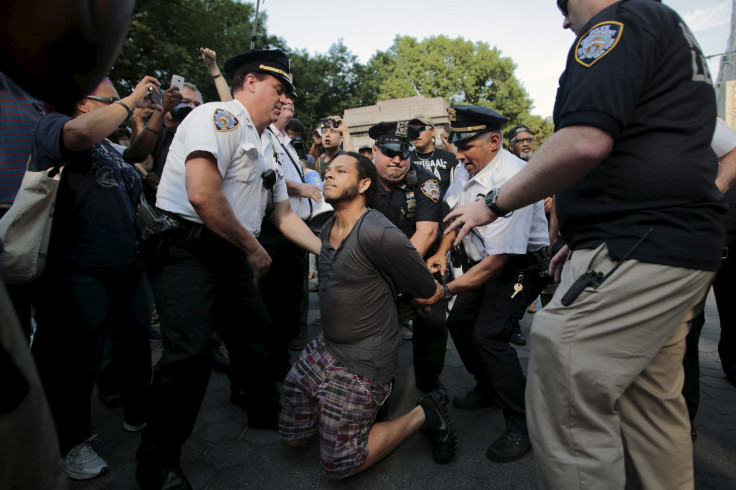 The New York Police Department inspector general's office has unveiled new use of force procedures aimed at addressing complaints of brutality and abuses by street officers and detectives. Crafted after a yearlong review of old use of force policies, the new procedures announced Thursday are in line with recommendations the inspector general made in the wake of a high-profile police-involved death last year.
"The result of this review is significantly enhanced policies, procedures and training along with standardization of investigative tactics and reporting," Lawrence Byrne, the deputy NYPD commissioner for legal matter, wrote in a letter to Mayor Bill de Blasio, the City Council and other police officials. The office of the NYPD commissioner was expected to respond to the inspector general's use of force report within 90 days, Byrne said.
The use of force definition has been revised and guidelines now emphasize de-escalation tactics and intervention by other officers when there is excessive use of force, according to Byrne's letter. There will also be standardized reporting procedures for uses of force by officers and against officers.
A new "Force Investigations Division" has been formed to investigate all uses of firearms and deaths in police custody. The division will report directly to a deputy police commissioner.
Uses of force and investigations will be compiled in an annual report to allow officials to spot patterns and trends. Officer training will also be overhauled – instructions on crisis and conflict management will be given to the NYPD's 35,000 officers by early 2016, Byrne said.
The new use of force policies were unveiled more than a year after the police chokehold death of Eric Garner, the 43-year-old Staten Island, New York, man arrested for selling loose cigarettes on the street. After sparking nationwide protests over police brutality incidents, Garner's death also prompted Gov. Andrew Cuomo to require special prosecutors for cases of police-involved gun- and force-related death.
The NYPD also released its 2014 report on firearms Thursday. Last year, two officers were shot and killed by another person, and two were injured by gunshots, according to the report. Police shot and killed eight people and injured 14 others.
Police Attitudes Toward Abuse of Authority | FindTheBest
© Copyright IBTimes 2023. All rights reserved.