New York Prison Break Fugitives On Most Wanted List: David Sweat, Richard Matt Added To US Marshals File Of Top 15 Criminals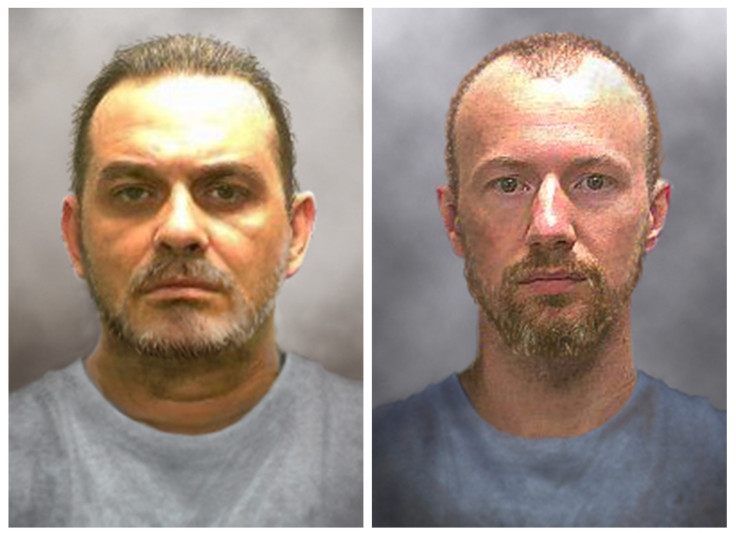 As law enforcement officers in New York frantically search for prison escapees David Sweat and Richard Matt, U.S. Marshals have added the two convicted murderers to a list of its 15 most wanted fugitives, CBS 6 Albany reported. The two men escaped June 6 from Clinton Correctional Facility in Dannemora, New York, prompting a massive manhunt involving hundreds of police officers.
The U.S Marshals Service was offering a reward of up to $25,000 for information or tips that lead to the capture of the two fugitives. The Marshals Service warned people that both Sweat and Matt were "considered armed and dangerous," and that citizens should not try to approach them if spotted. Sweat was serving a life sentence for killing a sheriffs' deputy in 2002, and Matt was serving 25 years to life for murdering a man in 1997.
The U.S. Marshals website has not yet been updated to include information on Sweat and Matt as of Thursday evening.
Most recently, New York State Police expanded the search area Tuesday after scouring 16 square miles without finding the fugitives. Although officials believe the two men were still in the area, U.S. Marshals as far away as the Mexican border have been told to be on the lookout for Matt and Sweat. Police were reportedly concerned the trail for the two murderers has gone cold, although the U.S. Marshall's service has said it is working on more than 1,200 leads.
The two men broke out of Clinton Correctional Facility after a "meticulously planned" escape that included sawing through metal pipes. Former prison employee Joyce Mitchell has been arrested under suspicion that she helped the two convicts acquire the necessary tools for the escape, such as chisels and a hacksaw blade.
© Copyright IBTimes 2022. All rights reserved.
FOLLOW MORE IBT NEWS ON THE BELOW CHANNELS