New York Protesters 'Blow The Whistle' At Police Stations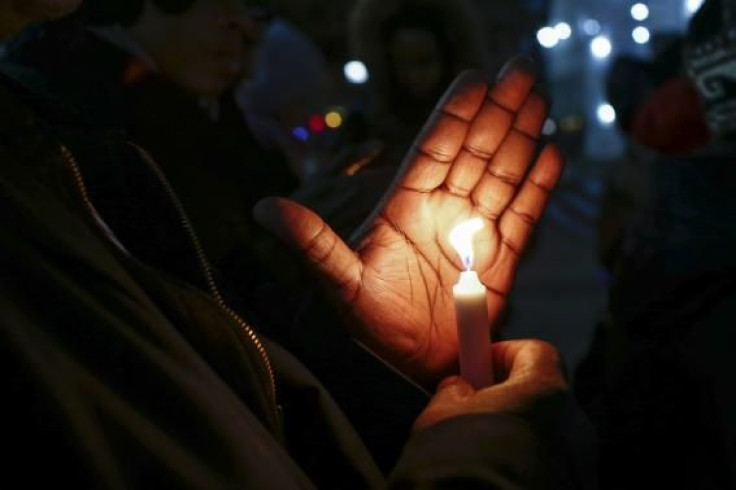 (Reuters) - Demonstrators staged mass "whistle-blowing" rallies outside police stations across New York City on Friday to start a second weekend of planned protests against the killing of an unarmed black man by a white patrolman.
In Harlem, about three dozen protesters marched past public housing projects where they say police abuse is particularly pervasive before rallying outside a local police station house. There, the crowd blew metal whistles, piercing the cold air with the high-pitch shrill.
"We are here because out of this precinct, regularly, routinely, they abuse people in these housing projects," organizer Kevin Lee, 59, told the throng of protesters.
The idea was to "literally blow the whistle on killer cops ... in the communities most affected by police brutality," according to a statement by Stop Mass Incarceration Network, which organized similar protests in the boroughs of Bronx and Queens to be held on Friday.
The whistle-blowing was part of a wave of protests that have swept the city since last week, when a grand jury decided not to indict Officer Daniel Pantaleo in the July chokehold death of Eric Garner.
While recent demonstrations have drawn fewer people, and the number of arrests has dropped, a poll released on Friday shows that many New Yorkers agree that justice has not been served in the Garner case.
Nearly two-thirds of New York adults believe that the grand jury should have brought criminal charges against Pantaleo, according to a New York Times/Siena College poll released on Friday. The poll of 760 adults was conducted from Dec. 4-10.
Earlier, as thousands of tourists and shoppers bustled through Times Square, protesters held up stark black and white signs bearing the names of more than 100 people who organizers say were victims of police violence. Some of them read out the name and a short narrative about each.
The artists, members of a Brooklyn-based collective called We Will Not Be Silent, organized the "language project" with the help of a Facebook event page.
"We try to take the language we hear on the street, the language of rage and sorrow," said Laurie Arbieter, one of the organizers. "We make complex thought come alive in the hands of the protesters by having it read boldly in black and white."
In Lower Manhattan, more than 100 people gathered in the cold on the steps of City Hall for a more traditional rally, some carrying homemade banners demanding an end to police violence.
© Copyright IBTimes 2023. All rights reserved.