New York Yankees Rotation: Five Concerns to Address This Offseason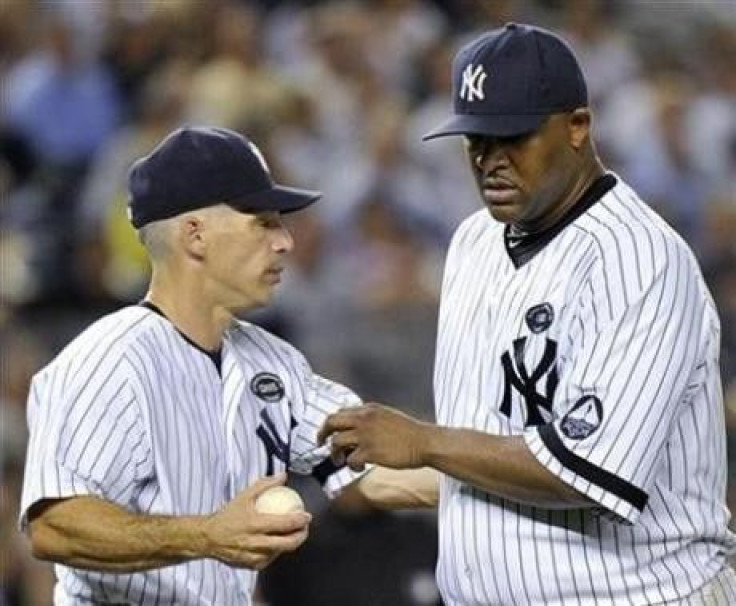 New York Yankees manager Joe Girardi said in his last press conference of the season that the franchise's biggest need this offseason is starting pitching to shore up the rotation. It seems, however, that starting pitching is a need every season to some degree for the Bombers. Nevertheless, taking the 2011 Yankees rotation's regular season and postseason pitching performance as a whole into consideration, the issues seem grander going into 2012.
Below are five concerns that Yankees management must address in order to build the right starting rotation for next season:
1. CC Sabathia
CC can opt out of his contract for next season, when he's due a whopping $24 million dollars. He went 19-8 with a 3.00 ERA and 230 strikeouts. However, when the Yankees depended on their ace to win this postseason, he didn't win at all. His ERA was 6.23. Girardi said that it all starts with CC and then you go from there.
2. Helping A.J. Burnett be that number two
Burnett is due a whopping $16.5 million next year, which by all estimates is number two starting pitcher money as far as the current Yankees rotation goes. However, this season, Burnett was more like a three or a four, going 11-11 with a 5.15 ERA. To his credit, he did look good in his postseason start against the Detroit Tigers, only giving up one run and four hits in 5 and two-thirds innings. His nasty breaking ball is not where it once was and throughout the season, he was erratic and off-key. His 83 walks was second in the A.L. That won't cut it next season.
3. Figuring out number 3, 4 and 5
If Sabathia remains a Yankee and Burnett is the surefire number two, that leaves the Yankees to shuffle around Ivan Nova, Phil Hughes and the young pitchers led by Hector Noesi. On top of all these guys, the Yankees can still opt to re-sign Freddy Garcia and/or Bartolo Colon. However, those two may not return since they are getting up there in age.
I think the kids could start to challenge, Girardi said. I think Noesi is a guy who could start to challenge.
Noesi was 2-2 with a 4.47 ERA this year for the Yankees. Girardi also mentioned prospects David Phelps, Adam Warren and D.J. Mitchell. The Yankees' two minor league pitchers with the most potential, Manny Banuelos and Dellin Betances, likely will begin next season in Triple-A.
Out of the last three spots, the fifth spot seems most intriguing. It seems right that Ivan Nova and Phil Hughes, who both have proven high potential, would compete for the three spot.
4. If any of the above three don't work out, signing a free agent pitcher is key
Sabathia could be too much of an investment. Burnett may not get back to form. Or, three through five may never get solved. If any combination of that happens, then the Yankees need to sign someone who they can bet can produce consistently based on their track record. One notable upcoming free agent pitcher is Texas Rangers ace C.J. Wilson. He's only 30 and has a proven regular and postseason track record. The Rangers have made two consecutive ALCS series. Wilson is a big reason why.
5. Putting together an unquestioned rotation (or most of the rotation) for consecutive seasons
It seems as though in recent years, the Yankees have signed a handful of aces and just hoped and prayed for the rest to fall into place. But, if they want to win again, the top of the rotation at least has to be grounded for a few years.
FOLLOW MORE IBT NEWS ON THE BELOW CHANNELS