Newt Gingrich - Tea Party Favorite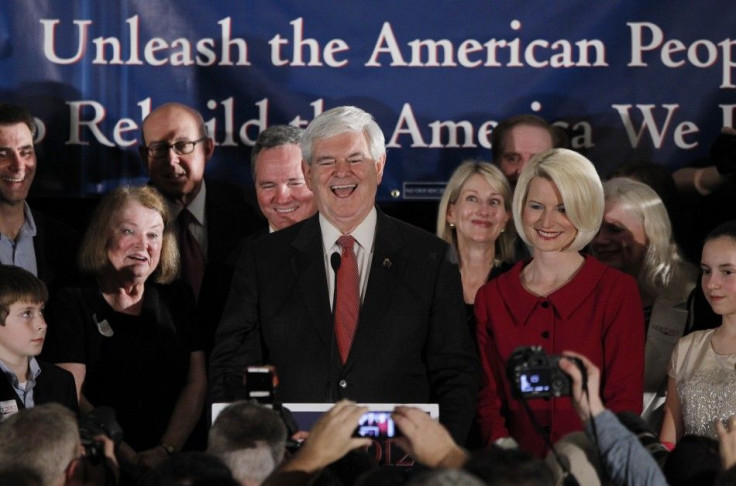 Newt Gingrich's resounding win in Saturday's South Carolina primary suggests that the former House Speaker is best positioned to win the support of voters sympathetic to the Tea Party.
Throughout the nominating contest, self-avowed Tea Party backers have oscillated between different candidates as they searched for an alternative to Mitt Romney, helping to drive the rapid ascents of Michele Bachmann, Herman Cain and Rick Perry. The results in South Carolina indicate that those voters coalesced behind Gingrich.
Tea Party Backing Gingrich
Exit polling found that Gingrich won the support of voters identifying themselves as Tea Party supporters by a wide margin and captured a plurality of voters who said they were neutral about theTea Party. Romney defeated Gingrich among voters who said they opposed the Tea Party, solidifying Romney's status as the candidate favored by an establishment still wary of the Tea Party's lack of discipline.
South Carolina is widely viewed as a bastion of the Tea Party. Sen. Jim DeMint, R-S.C., has been an elder patron of the movement, and other stalwarts like Gov. Nikki Haley and Rep. Tim Scott, R-S.C., were propelled into office by the wave of populist fervor that swept over the 2010 election. About two-thirds of voters leaving the polls on Saturday identified themselves as Tea Party supporters.
Gingrich has drawn some of his most consistent support from voters affiliated with the Tea Party, winning a straw poll conducted by a large Tea Party group and scoring the endorsements of 100 Tea Party leaders dispersed across different states. A Washington Post-ABC Poll found that strong Tea Party supporters represent Gingrich's strongest base of support.
Tea Party: Not Cohesive
Far from a unified movement, the Tea Party would be more accurately described as a constellation of sometimes competing groups who share a belief in limited government and a suspicion of established political figures. The movement's decentralized, fragmented nature has prevented it from unifying behind a single candidate, but there is broad agreement among different Tea Party groups that Romney is too moderate. His support for universal healthcare in Massachusetts in anathema to the Tea Party, which derived much of its early energy from opposition to President Barack Obama's healthcare overhaul.
Despite having spent years as the most powerful Republican in the House and a consummate political insider, Gingrich has been able to capitalize on widespread frustration that the GOP establishment has settled on Romney. During his victory speech in South Carolina Gingrich lambasted the the elites in Washington and New York. He has won uproarious applause at debates for accusing mediators of liberal bias, tapping into the Tea Party's resentment of the mainstream news media.
The Republican establishment is anti-intellectual and anti-change, Gingrich told The New York Times Magazine in a recent interview, adding that he represented a mortal threat to the party kingmakers who favored Romney over him.
Gingrich recently drew the ire of Republican pundits and politicians for his relentless attacks on Romney's investment firm Bain Capital. Critics said that Gingrich's characterization of Bain as destructive and predatory amounted to an assault on free enterprise and suggested that Gingrich was using Democratic talking points to attack a fellow Republican. Gingrich backed off temporarily, but in recent days has been defiant when questioned about the attacks, calling the backlash one of the most absurd things I have ever seen.
Such contempt for his critics could bolster Gingrich's support among Tea Party supporters who embrace the former Speaker's narrative that he is besieged by a party establishment that has tried to cast him aside. Gingrich's attempts to cast himself as an outsider may generate some skepticism from those who remember his time on Capitol Hill, but the former Speaker doubled down on that stategy during a Monday interview with ABC in which he insisted that I have no ties to the power structure.
I think you're going to see the establishment go wild in the next week or two, Gingrich told Good Morning America.
--
FOR FREE to continue reading
✔️ Unlock the full content of International Business Times UK for free
offer available for a limited time only
✔️ Easily manage your Newsletters subscriptions and save your favourite articles
✔️ No payment method required
Already have an account?
Log in
© Copyright IBTimes 2023. All rights reserved.